Nurmagomedov retained his lightweight title with a dominant fourth-round submission win over McGregor at T-Mobile Arena in Las Vegas.
READ MORE: Khabib Nurmagomedov submits Conor McGregor at UFC 229 (PHOTOS)
But chaos ensued after the victory as the Russian scaled the fence to attack a member of McGregor's team, while two Nurmagomedov team members reportedly lashed out at the Irishman in the cage.
The run-up to the fight had seen the bad blood boil between the pair, with McGregor frequently taunting the Russian fighter in typcially belligerent fashion, even aiming a kick at him in the final face-off on Friday.
READ MORE: Three members of Khabib team arrested after mass brawl mars UFC 229 win over McGregor – reports
At the post-fight press conference, Nurmagomedov mocked McGregor and his team as "tap machines," before saying the media had stirred up tensions in a sport that should be based on "respect."
"This is respect sport, not trash talking sport," the Russian fighter added, saying that his father and coach, Abdulmanap, would "smash him" over his apparent lapse of judgement in launching the furious assault after the bout.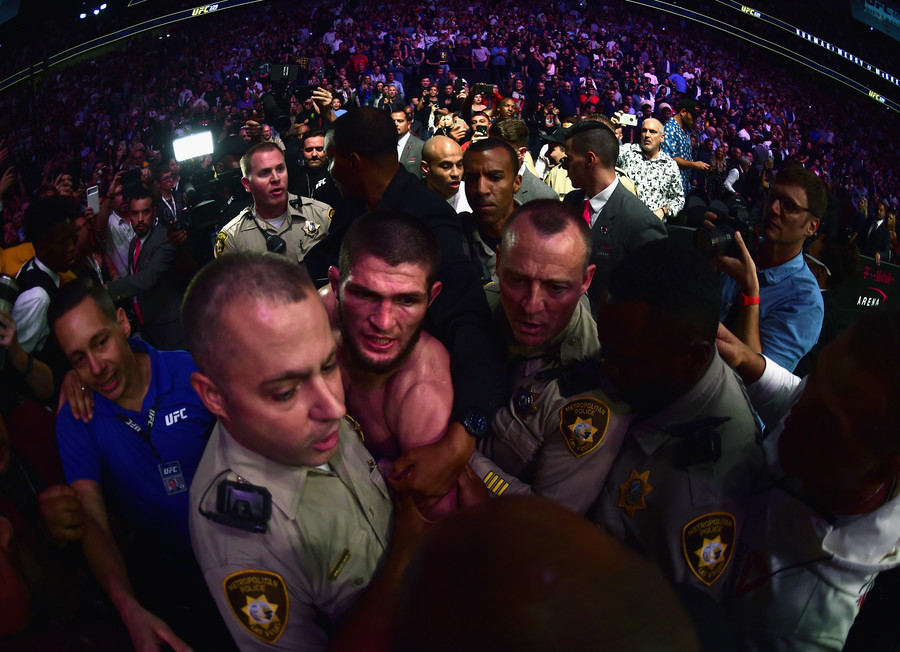 He closed the conference by revealing that Russian leader Vladimir Putin had phoned him to congratulate him on his victory.
READ MORE: 'Putin called to say congratulations, he's proud of me': Khabib on UFC 229 presidential call (VIDEO)
UFC chief Dana White had earlier said that the undefeated Russian could be stripped of his title, depending on actions taken by the Nevada authorities.
READ MORE: Khabib could be stripped of title over mass brawl at UFC 229 – Dana White
He also confirmed that three of Nurmagomedov's team had been arrested over the incident – for which Nurmagomedov has reportedly had his purse withheld – but that McGregor did not want to press charges, meaning the trio had been released.