The Camp Fire, in northern California, has killed at least 71 people.
More than 1,000 people are reported to be missing, although officials say that figure could fluctuate.
Speaking in the town of Paradise, Mr Trump described the scene as "sad to see" and revisited his disputed claim poor forest management was to blame.
"We do have to do management maintenance and we'll be working also with environmental groups, I think everyone's seen the light," he said.
"I don't think we'll have this again to this extent," he added.
Experts have pointed to the weather, climate change and population shifts as bigger causes of the wildfires.
On top of the Camp Fire, firefighters are also tackling several other blazes, including the Woolsey Fire near Los Angeles which has claimed at least three lives.
And adding to the misery, scores of people have become sick after outbreaks of the norovirus at shelters and the air quality in northern California has been rated the world's worst.
Heavy rain is forecast next week that could douse the flames but also bring mudslides and floods on hillsides stripped of vegetation.
What kind of welcome did President Trump get?
The US president was greeted by Governor Jerry Brown and his successor Gavin Newsom, both of whom are Democrats and have sparred with Mr Trump over the wildfires.
"Now is a time to pull together for the people of California," Governor Brown tweeted.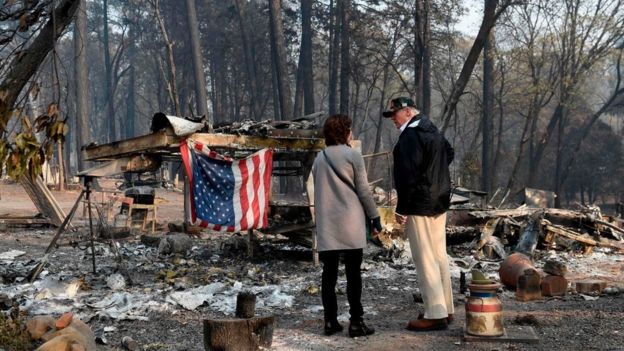 In Paradise, Mr Trump praised the efforts of local law enforcement, politicians and the teams searching for survivors on the ground.

Read More (...)