This comes after 14 more bodies were discovered in or near the decimated town of Paradise in the state's north, bringing the number of confirmed dead there to 23.
Two more people were killed in the south, near Malibu.
An estimated 250,000 people have been forced to flee their homes to avoid three major blazes in the state.
Meanwhile, President Donald Trump has drawn anger by saying that poor forestry management is to blame for the fires.
What are the main fires?
The Camp Fire began spreading through Butte County on Thursday, and firefighters were powerless to stop it destroying the town of Paradise.
Another fire swept into the affluent southern beach resort of Malibu on Friday and has now doubled in size.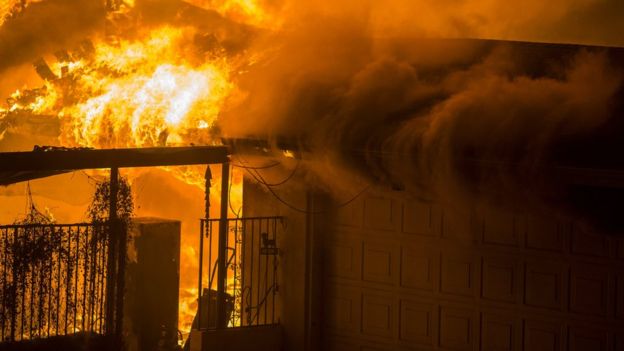 That fire, known as the Woolsey, now covers an area of 70,000 acres (28,000 hectares).
Among the towns under evacuation orders is Thousand Oaks, where a gunman killed 12 people in a rampage on Wednesday.
Meteorologists have warned that dangerous conditions may continue well into next week, but firefighters say they are hoping to take advantage of a temporary lull in the wind fanning the flames.
Read More (...)