Pastels, florals, as well as yellows and greens were key looks at the wedding of Prince Harry and Meghan Markle.
The bride kept it simple and sophisticated in her chic Givenchy gown - and the guests seemed to have had the memo too, with the majority getting their wedding looks spot on.
Out of 600 guests arriving for the ceremony in St George's Chapel, there were remarkably few who caused sharp intakes of breath.
We asked two fashion experts to cast their critical eye over the guests' choices.
1. Amal Clooney
Amal Clooney took everyone's breath away when she was among the first of the celebrity guests to arrive ahead of the wedding.
She wore a bright yellow Stella McCartney dress below the knee with a loose bow tied at the back. George wore a striped yellow tie and pocket to match his wife's stand-out look.
"Everything about it was perfect," says Elizabeth von der Holtz from fashion brand Net-a-Porter. "The colour, the neckline, the long-draped bow. She was super chic and beautifully put together."
Fashion boutique owner Alex Eagle agrees: "She looked amazing. She nailed the hat which is quite hard. It wasn't too big or too small - she nailed something in-between which is very hard.
"It's a really lovely vibrant spring colour without being florescent. The elegant silhouette balances the colour so it didn't feel ostentatious. She definitely stole the show."
2. Carey Mulligan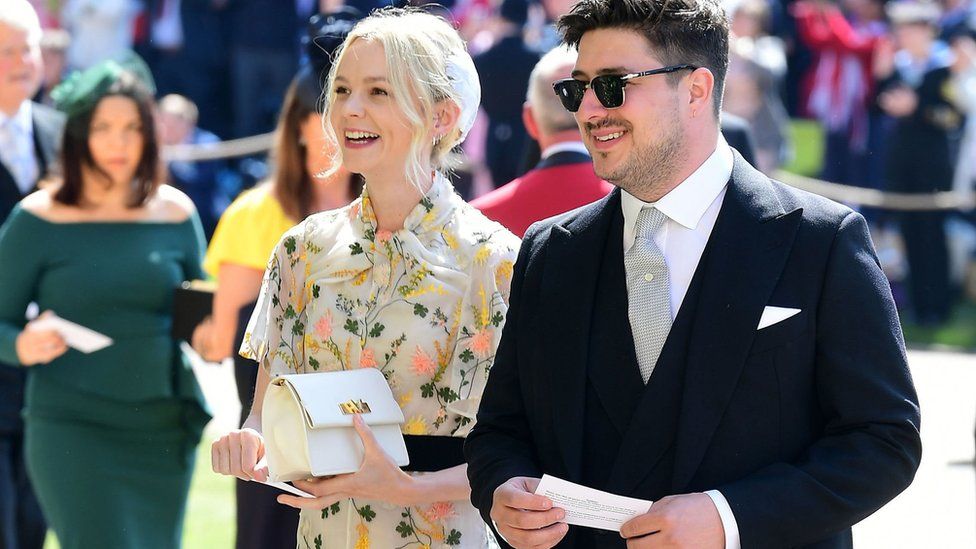 Actress Carey Mulligan made an elegant entrance wearing Erdem and was accompanied by her husband Marcus Mumford.
Von der Holtz comments: "Carey Mulligan was one of the key looks for me today. She had a very pretty embroidered dress and looked simple and chic."
Eagle agrees: "Mulligan was the epitome of modern garden party style. She's what you expect a wedding guest to be - she looked young and fresh and elegant. And wasn't in a boring pastel ensemble."
Props indeed for Carey!
3. Doria Ragland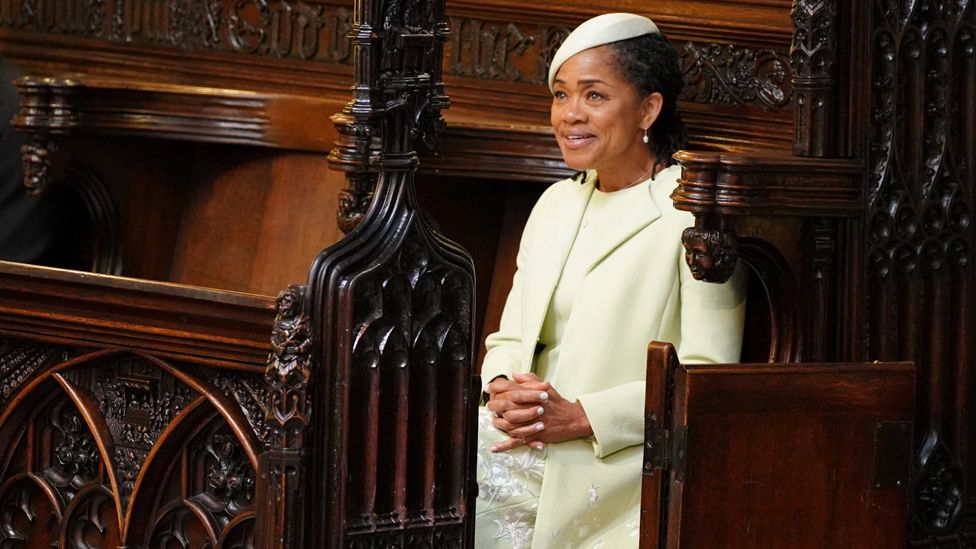 Doria Ragland looked absolutely beautiful in her pale green embroidered coat dress with matching beret.
For the whole ceremony, Meghan's proud mother looked as if she was on the verge of tears, winning hearts across the nation.
"My new girl crush is Meghan's mum," declares Alex Eagle.
"She was pared back and elegant - she showed that less was definitely more. I felt like there was a synergy between mother and daughter - with their outfits screaming simplicity.
"Her look showed a keenness - and also the freshness of spring. They both looked like they just weren't trying to prove anything.
Von der Holtz calls Doria's look "very clean, very appropriate dressing".
"Doria just looked like she was so emotional and happy the whole time! She looked really elegant in her unusual pistachio colour."
4. Meghan's friends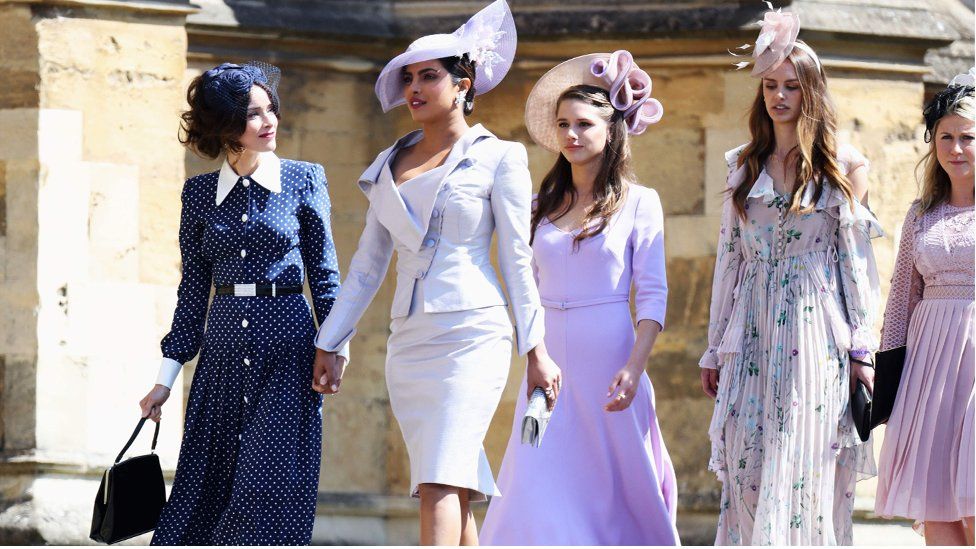 When Meghan's friends arrived there was a definite sense that here were some ladies who meant business.
With their bold tailoring and confident struts there was an unmistakeable non-Britishness going on.
Eagle comments: "I loved all the American glamour-zons, who showed up. They were just so much better groomed than everyone else."
Bollywood star Priyanka Chopra (second left) wore a pale lavender Vivienne Westwood skirt and blazer and Suits star Abigail Spencer (left) stood out in her forties-inspired polka dot tea dress.
"Abigail Spencer looked just divine in her Alessandra Rich dress," says von der Holtz. "Polka dots never go out of style, and she just nailed the look."
5. The Beckhams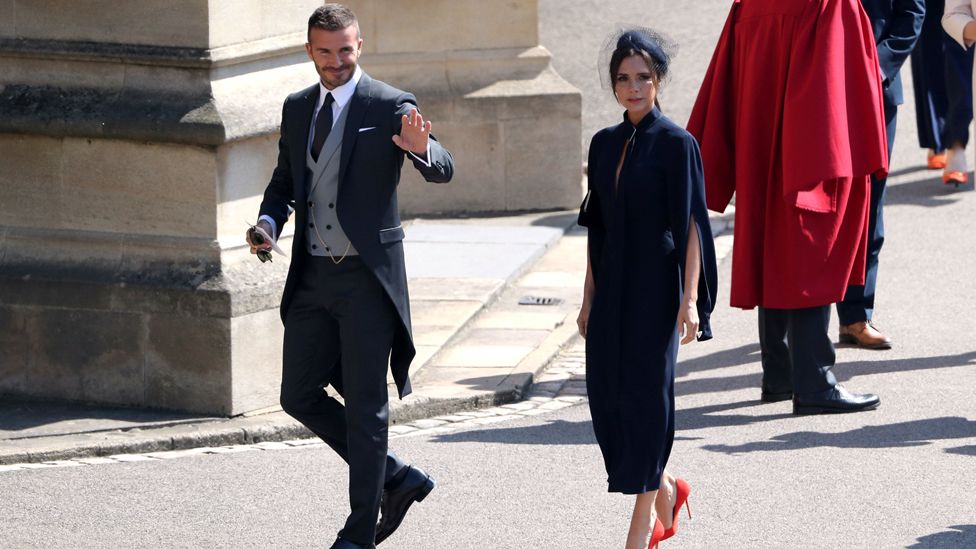 Victoria and David Beckham arrived looking predictably stylish and suave.
Von der Holtz says Victoria's look was not without its jeopardy: "It is very dark for a wedding - not what you might usually see, but with the red suede shoes and the interesting slits in the sleeves, I think she looked very elegant."
Eagle agrees: "There was a lot going on with the shape of her dress, which was good because she kept the colour quite dark."
Eagle adds: "It was nice to see David Beckham wearing a British designer - his friend Kim Jones at Dior.
"He looked modern, and wasn't trying to look too traditional or like an English toff."
6. Sofia Wellesley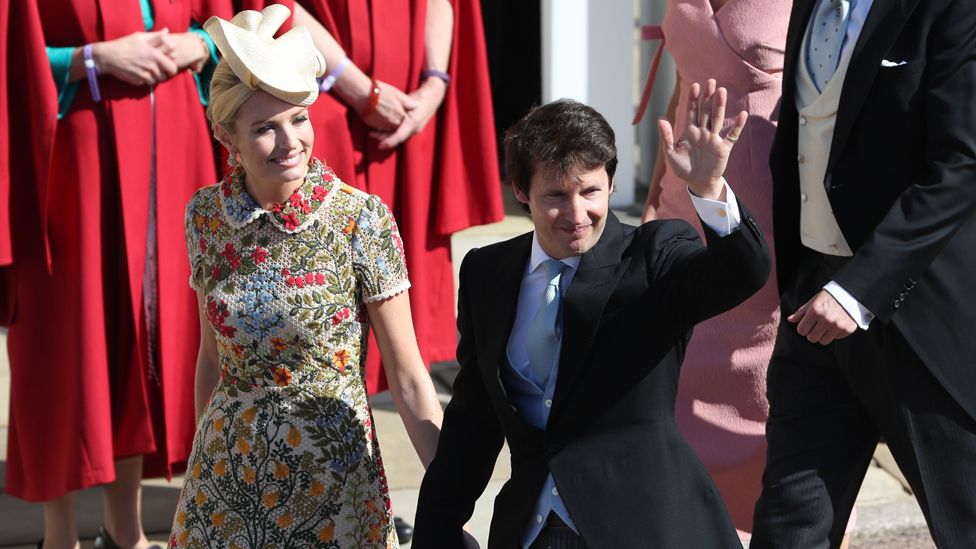 When singer James Blunt arrived at the chapel, all eyes were on his wife Sofia Wellesley, the grand-daughter of the 8th Duke of Wellington.
She wore a dress by Red Valentino, embroidered with macramé - which involves a series of knotting to get a textured effect across the dress,
The dress had a Peter-Pan collar to add detail around the neckline.
Elizabeth von der Holtz says: "This look is very sophisticated especially paired with the nude hat and accessories - she gets it just right for a spring wedding."
7. Elton John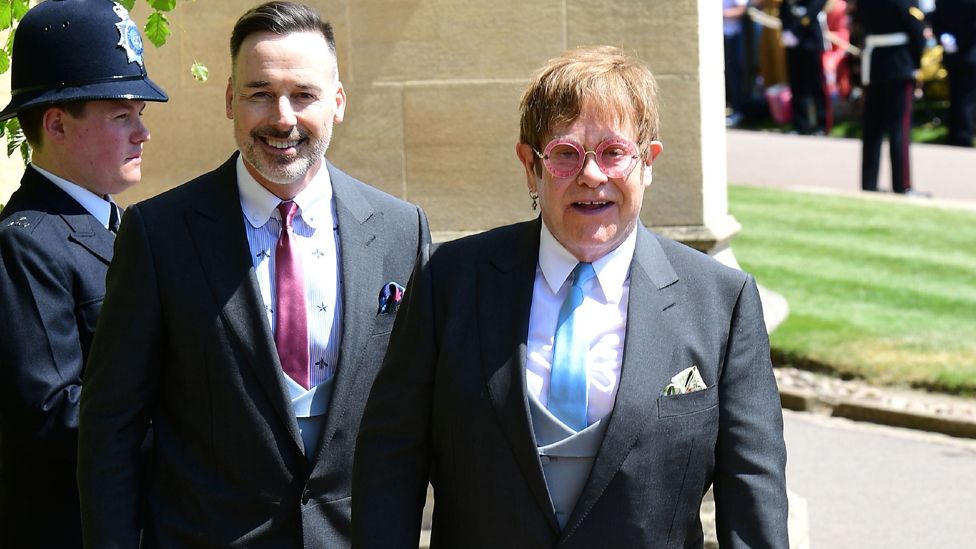 Not one to be outdone by the ladies, Elton John rocked a full on look just with those glasses alone. After all, someone's got to bring some glamour to the men's side of things...
Eagle says: "Elton John looked fabulous. He had a nice pale blue tie and GREAT glasses - that's what you want from him basically."
David - we haven't missed your blue pin-stripe shirt covered in bees and stars either. Keep up the good work you two.
8. The Queen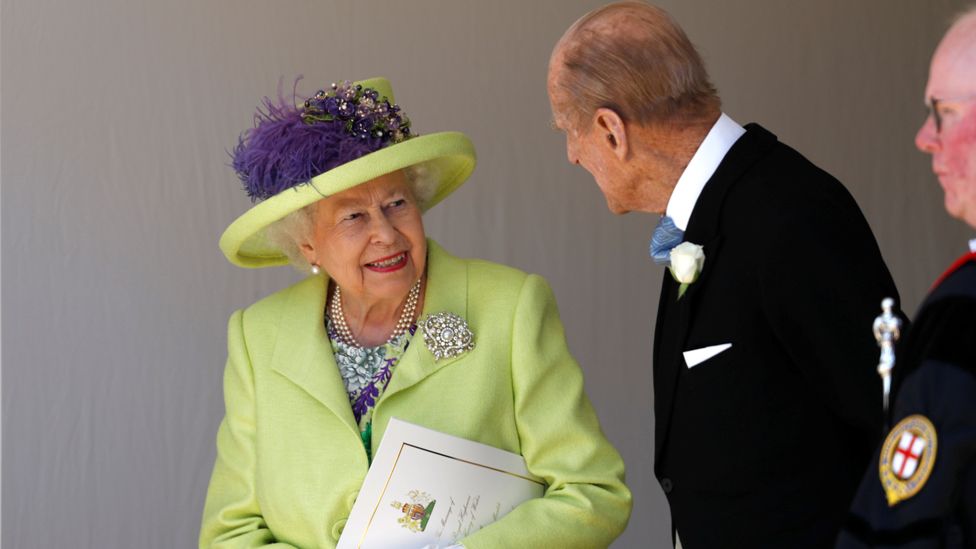 And last, but by no means least, Her Majesty herself rocked one of the best looks of all the guests. She proved at 92, she still has plenty of fashion game.
Eagle says: "The Queen looked amazing - it was a really fun colour. It made you feel like she was looking forward to the wedding. It was an almost florescent dress with a very vibrant purple to it. It really shouldn't have worked but it absolutely did."
Von der Holtz points out: "The Queen is usually in monochrome - so a big bold print dress under her coat was really unusual. She looked relaxed and positive about the day.
"The whole thing being in Windsor felt a bit more relaxed than previous occasions. It felt really happy and joyful and not too ostentatious."
Follow us on Facebook, on Twitter @BBCNewsEnts, or on Instagram at bbcnewsents. If you have a story suggestion email entertainment.news@bbc.co.uk.