At a moment when America has been focussed myopically on the highest court in the land, the Trump administration stands accused of being a bystander to lawlessness around the world.
The forced disappearance of the Interpol chief, Meng Hongwei, who it turns out is being held by the Chinese authorities.
Mounting evidence underscoring the Kremlin's involvement in the chemical poisonings in Salisbury.
The seemingly gruesome case of Jamal Khashoggi, the missing journalist who Turkish authorities suspect was killed and dismembered by a Saudi hit squad inside the kingdom's Istanbul consulate.
All point to a world of disorder: of a slide towards unruliness; of a new era of strongman authoritarianism and a waning of international law.
Traditionally the United States has viewed itself as the upholder of norms, an exemplar of moral leadership, the policeman of global bad behaviour - an idealised notion it has not always lived up to.
But this week has driven home not just how much Donald Trump has been reluctant to perform that role. It also speaks of how his doctrine of patriotism is at risk of being interpreted by other nations as a doctrine of anything goes.
In the red, white and blue of America First do other countries see a green light to act with impunity?
On Wednesday, the president described Jamal Khashoggi's disappearance as "very serious" and said his administration had raised the case at the "highest levels" with Riyadh.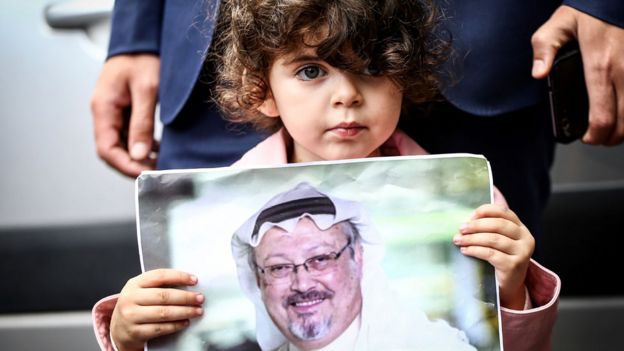 The national security adviser, John Bolton, and the president's son-in-law, Jared Kushner, have spoken to Crown Prince Mohammed bin Salman, the de facto ruler of Saudi Arabia. Plans are also afoot for a White House meeting with the journalist's fiancée, Hatice Cengiz.
But the president has stopped short of condemning or criticising the Saudi Arabians, even though the Washington Post reports US intelligence intercepted communications of Saudi officials plotting to capture Khashoggi, one of the newspaper's columnists and a prominent critic of the Saudi Arabian government.
The Khashoggi disappearance has been absent from Donald Trump's Twitter feed, his preferred outlet for presidential outrage.
He has not mentioned it at his campaign rallies, another forum where he regular gives vent to his most visceral feelings. Though he smiled on Tuesday night when a rally crowd in Iowa aimed a "Lock Her Up" chant at Senator Diane Feinstein, the ranking Democrat on the Senate Judiciary Committee, he said nothing about the journalist's disappearance.
Clearly, the White House is keen to avoid a rush to judgment and says it is "demanding" answers from Riyadh. But is Donald Trump's circumspection merely a cover to avoid reproaching his Saudi allies?
For a president who does not normally hesitate, it could easily be construed as moral foot-dragging and an abdication of traditional American leadership.
Republicans on Capitol Hill have been more damning. Senator Bob Corker, the chairman of the Foreign Relations Committee, said "there will definitely be consequences" if it turns out the Saudis were involved. Lindsey Graham, the president's golf buddy, said it would be "devastating" to US-Saudi relations. No such public warnings have come from the White House.
President Trump has befriended the Crown Prince, and been staunch in his support of the Saudi leadership.
His first international visit was to Saudi Arabia, where he took part in that that mystical-looking ceremony during which he placed his hands on a glowing orb.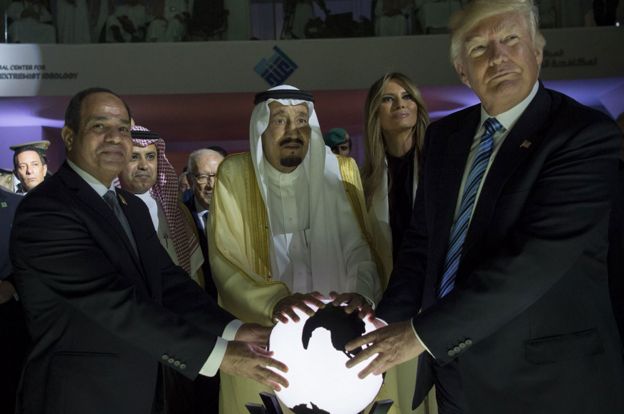 he Trump administration has backed the Saudi-led bombing campaign of Yemen, part of Riyadh's proxy war with Tehran.
Last November, the president endorsed the royal purge of Saudi princes, businessman and government ministers under the auspices of an anti-corruption drive. He has approved a $1bn (£757m) arms package to the royal kingdom.
On Wednesday, President Trump also reiterated his admiration for the 33-year old crown prince, calling him a "fine man". He continues to speak of the Crown Prince with almost fatherly pride.
One of the most marked features of President Trump's foreign policy has been his denigration of close allies and acclamation of leaders who flatter him, whatever their human rights records.
Presently, US Secretary of State Mike Pompeo is organising a second summit with Kim Jong-un. And even though the dictator has been accused among other brutalities of carrying out executions with anti-aircraft guns and of detaining up to 130,000 North Koreans in gulags, the president told a rally in West Virginia last week he "fell in love" with the North Korean at the Singapore summit.
Donald Trump has praised Egypt's autocratic president Abdel Fattah al-Sisi, describing him as "a fantastic guy."

Read More (....)