Beijing has announced an increase of 6.6 per cent in its military spending, but did not set a target for gross domestic product (GDP) growth for 2020 as the National People's Congress, China's most important annual political event, got under way in Beijing on Friday.

Premier Li Keqiang said a sound legal system and enforcement mechanism for safeguarding national security in Hong Kong should be established and separatist activities seeking Taiwan's independence should be resolutely rejected.

Delayed for about two months because of the global health crisis, this year's congress is expected to be several days shorter than usual. The thousands of deputies taking part were all tested for the coronavirus and isolated ahead of the event, while most of the interactions between deputies and reporters are expected to take place online.
With reporters in Beijing and across the country, the South China Morning Post will provide comprehensive daily coverage of NPC 2020, starting with Li's opening address.
Defence spending
China has increased its military budget to 1.27 trillion yuan for 2020, a 6.6 per cent rise from last year despite the economic decline in the first quarter of the year, the country's top legislative body revealed on Friday.
This year's growth in defence spending marked a continuous expansion over two decades in the 21st century. The number has boomed over 12 times from 107.6 billion yuan in 1999.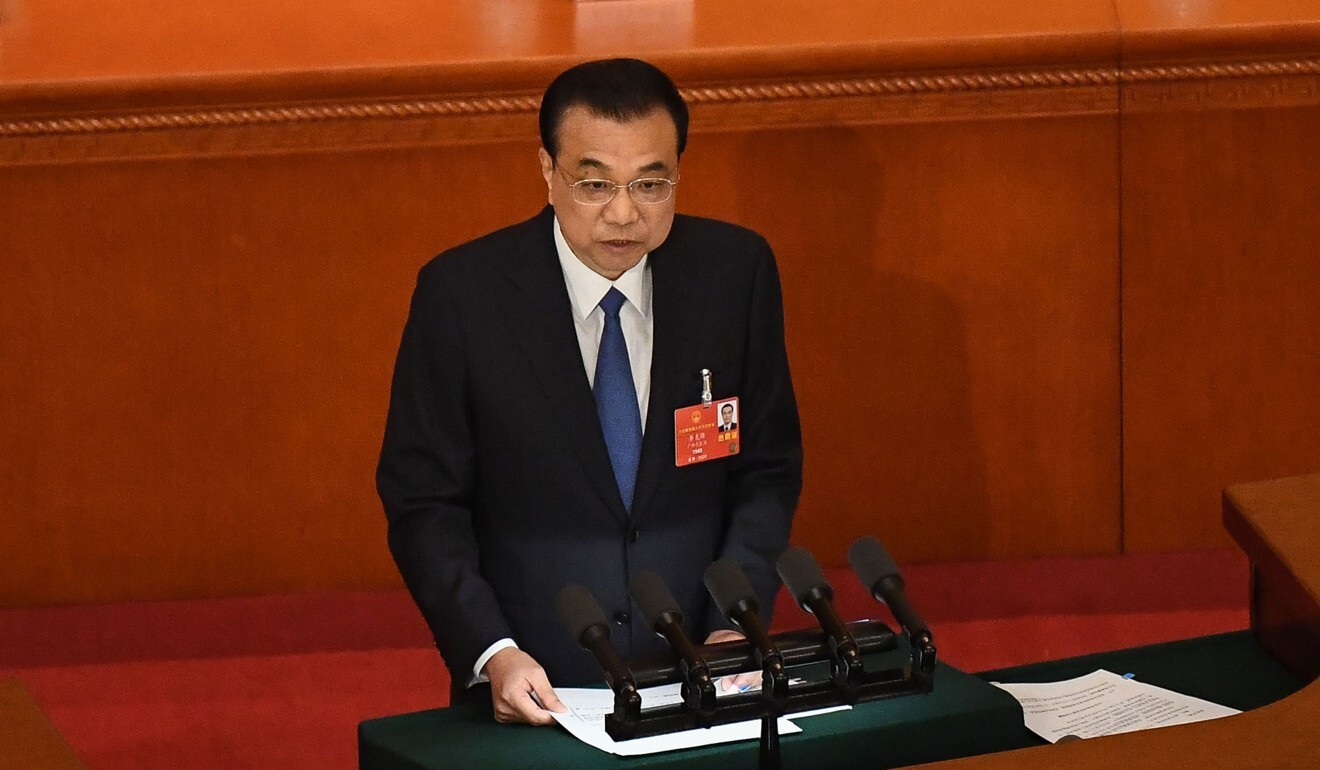 However, the rate of increase this year is the lowest in 20 years. It came after the 6.8 per cent shrinkage in GDP in the first quarter of 2020 – the first contraction since quarterly records began in 1992 – after an extensive shutdown to contain the coronavirus outbreak.
Beijing said it always keeps military spending below 2 per cent of its annual GDP. However, China's official figures have long been criticised as lacking transparency with significant omissions of important items. The Stockholm International Peace Research Institute (SIPRI) estimated the actual expenditure on defence in 2019 was US$261 billion, rather than the announced 1.19 trillion yuan (US$178 billion).
No GDP target
China set no specific growth target for 2020, for the first time in history. "We do not set the specific GDP target mainly due to the global pandemic and big uncertainties about the economy and trade. China is facing unpredictable factors in its development," Li said in the report.

The government set an urban unemployment rate target of around 6 per cent, compared to 5.5 per cent last year. A CPI target was set at 3.5 per cent, versus 3 per cent last year. According to the government's work report, a new target for urban job creation was set at 9 million, versus 11 million last year.
Beijing set a central government budget deficit target of 3.6 per cent of GDP this year, up from 2.8 per cent last year, giving it more room to increase spending to combat the damage caused by the coronavirus pandemic.


The government will issue one trillion yuan in new "special treasury bonds" this year – the first issuance of such bonds since 2007. The issuance size is at the lower end of expectations.
Beijing has set the local government special bond quota for this year at 3.75 trillion yuan (US$527 billion), compared to 2.15 trillion yuan last year.
The government said it would maintain the current tax cut measures to year end. The full-year tax cut for corporations is expected to cut their tax burden by more than 2.5 trillion yuan this year alone, according to the report. Last year's tax cut saved corporations and individuals 2.3 trillion yuan.
Hong Kong legal system
In the government work report, Li said the central government would "accurately" implement the "one country, two systems" and the principle of "the Hong Kong people governing Hong Kong".
It also said a sound legal system and enforcement mechanism for safeguarding national security in the Hong Kong special administrative region should be established.
Two Sessions 2020: China sets sights on Hong Kong legal system as part of national security move
The principle of "Hong Kong people governing Hong Kong" was omitted in the report by Chinese People's Political Consultative Conference chairman Wang Yang on Thursday.




National security resolution today
The central government will table a resolution today to enable the NPC Standing Committee to craft and pass
a new national security law tailor-made for Hong Kong.

Sources earlier told the Post the new law would proscribe secessionist and subversive activity as well as foreign interference and terrorism in the city, which have been pressing issues over the past year of anti-government protests in the city.
Sources said Beijing believed it was impossible for the city's Legislative Council to pass a national security law to enact Article 23 of the city's Basic Law given the political climate. This was why it was turning to the NPC to take on the responsibility.
The Basic Law, or the city's mini-constitution, requires the Hong Kong government to enact its own national security law prohibiting acts of "treason, secession, sedition, or subversion" under Article 23.
But the law has been in abeyance since 1997. In 2003, the Hong Kong government was forced to shelve a national security bill after an estimated half a million people took to the streets in July that year to oppose the legislation which they said would curb their rights and freedoms.




Hong Kong security 'a national matter'
An editorial published by official state newspaper People's Daily at midnight on Friday said the building of a fully functioning legal and implementable framework for Hong Kong's national security was "a national matter instead of just a Hong Kong matter".
"The fact is, Hong Kong has been handed over for nearly 23 years but local legislation [on national security law] has been delayed without progress. Anti-China radicals have used this period of time to frequently challenge the authority of the central government, promoted and encouraged 'independence', secession and sedition activities," the article said.
"In 2019, protests roiled from the anti-extradition bill even showed that anti-China radicals are repeatedly stepping on the bottom line of the security of national sovereignty, challenging central authority and authority of the Hong Kong Basic Law. Violence erupted and riots emerged.
"This has seriously threatened the practice of 'one country, two systems' and the prosperity and stability of Hong Kong. These are all testimonies of how building a fully functioning legal and implementable framework in Hong Kong is necessary and urgent," the article said.

Sharp fall for Hong Kong markets
Hong Kong's stocks fell sharply on Friday after Beijing said it plans to pass a security law to curb secession and sedition in the city. The Hang Seng Index slid 2.6 per cent, or 619.47 points, to 23,660.56 right after the open.
The resolution expected later today will add to the confrontation between Beijing and Washington, with US President Donald Trump saying his administration would respond strongly.
"A horrible risk for markets is that much of the attention from today's NPC will turn to Hong Kong. The agenda includes an item that would mean the government will tighten its grip over the special administrative region, which could potentially reignite the protests that wracked the city last year," said Stephen Innes, a strategist at AxiCorp.
"But even more worrisome is the global backlash, especially with the US-China hawks circling overhead. A denouncement by the White House, which is almost certainly to happen, could exacerbate already tenuous US-China relations and could trigger a global backlash that Trump seems to be pinning his hopes on. Indeed, it is starting to look like a US-China summer of discontent in the making."
Phase one China-US trade deal to continue
Li vowed the phase one trade deal with the US would be implemented from January. "We need to implement the phase one trade deal with the US," he said, adding that China was committed to a multilateral trade system and reform of the World Trade Organisation. He also said China would push forward with the China-Japan-South Korea Free Trade Agreement.
According to the phase one deal signed with the US, China pledged to buy, over two years, at least US$200 billion more in American goods and services than it did in 2017, including about US$40 billion in agricultural goods.
Earlier this month, US President Donald Trump threatened to terminate the phase one trade deal, if China failed to fulfil its promise of buying US goods. Many have speculated about China's capability to keep up with that promise after the pandemic.
Foreign investment
China will "significantly shorten" its negative list for foreign investment as trade tensions with Washington continue, over issues such as market access.
Without referencing specific sectors, Li said the government would draw up a negative list of areas in cross-border trade in services, in which foreigners may not participate. He said, however, that Beijing would seek to ensure a market environment which would allow "all companies, Chinese and foreign, to be treated as equals and engage in fair competition".
Rejection of separatist activities in Taiwan
Li called in his address for the resolute rejection of separatist activities seeking Taiwan's independence, and urged a deepening of ties across the Taiwan Strait towards the goal of peaceful reunification.
His comments came just after Taiwanese President Tsai Ing-wen's official inauguration for her second term on Wednesday as leader of the democratic island. Beijing has said it will not renounce the use of force to assert its claims of sovereignty.

Tsai's administration has forcefully rejected the "one country, two systems" model of semi-autonomy proposed by Beijing for the island, and has refused to recognise the "1992 consensus", a political understanding that Tsai's predecessor claimed meant there was only one China, but different interpretations of whether Taipei or Beijing ruled.
Li's remarks echoed those made in last year's work report, but left off mention of the "1992 consensus" which was included last year.




Taiwan slams national security legislation for Hong Kong
Taiwan's Mainland Affairs Council slammed the proposed national security law for Hong Kong, saying it violated the democratic and human rights of the city's people. It said the legislation would increase dissatisfaction and endanger all people in the city, as well as its status as an international financial centre.
"In a reflection of the CCP's inability to self-reflect, it is blindly ignoring the root of Hong Kong's instability and blaming it instead on external forces and 'Hong Kong independence' forces, and is therefore anxious to legislate to be on guard against any national security loopholes," the council said in a statement.
"The laws of any civilised country should be the protector of the people, not the shackles of freedom," it said. "We hope the relevant parties will think twice, and not make the wrong decision, to plunge Hong Kong into further chaos."



Covid-19 challenges persist
Li said the Covid-19 pandemic had not yet come to an end, and that China faced an "immense" task in promoting development.
Li said China had given top priority to protecting people's lives since the outbreak in the central Chinese city of Wuhan in December, and the country would strive to resume economic development and ensure employment while maintaining regular epidemic prevention and control measures.
The coronavirus has infected more than 5 million people and killed over 320,000 around the world, including 4,645 people in China.
Economic focus
The NPC comes as China continues its re-emergence from the health crisis, but amid widespread criticism of its initial handling of the outbreak and attempts to cover it up.
Some Chinese activists and scholars have even called for the meeting to be a reckoning of Beijing's response to the pandemic, which has infected more than 5 million people and killed close to 330,000 around the world.
Those appeals are likely to go unanswered, however, as the nation's leaders are expected to spend the next week or so expounding their policies and proposals for reviving the economy, alleviating poverty and fiscal reform.
Unemployment measures
Li stressed the need to increase jobs support, including for the country's 8.74 million college graduates this year, in the midst of soaring unemployment in China. The Covid-19 pandemic has left tens of millions without work. Several hundred million casual labourers and other low-income earners would be able to postpone their social insurance premiums and employment-related government fees, and the government would provide more vocational training, he said.
Chinese officials have increasingly been under pressure to respond to unemployment, which threatens social stability. The unemployment rate jumped by 6.2 per cent in February, the highest on record, but independent analysts have said the numbers may be higher, and could reach 10 per cent this year.
Belt and Road Initiative
Li said China would focus on quality for "mutually beneficial outcomes" in its Belt and Road Initiative. Criticism has escalated over Beijing's lending practices in its billion-dollar development drive, which have left poorer countries out of pocket in the midst of the pandemic.
A number of African countries, Pakistan, Sri Lanka, and others have requested delays and restructuring in billions of dollars of existing loans for major projects, raising concerns among Western countries in particular over Beijing's use of the initiative for its geopolitical ambitions.
Reporting by Sarah Zheng, Shi Jiangtao, Jane Cai, Liu Zhen, Minnie Chan, Kristin Huang, Laura Zhou, Wendy Wu, Gary Cheung, Frank Tang, Jun Mai, Kinling Lo, Linda Lew, Coco Feng, Echo Xie, Keegan Elmer, Liu Yujing, Amanda Lee, Catherine Wong, Zhuang Pinghui, Tony Cheung, Victor Ting, Pearl Liu, Simone McCarthy, Kimmy Chung, Finbarr Bermingham, William Zheng and Matt Ho
Help us understand what you are interested in so that we can improve SCMP and provide a better experience for you. We would like to invite you to take this five-minute survey on how you engage with SCMP and the news.
---