https://www.global.vidostream.comhttps://www.global.vidostream.com/news/America-Politcs/joseph-kennedy-iii-beaten-by-ed-markey-in-massachusetts-primary-15550.html
https://www.global.vidostream.com/uploads/news/2020_09/_114192566_tv063130352.jpg
The grandson of assassinated presidential hopeful Robert Kennedy lost the Democratic primary to incumbent Senator Ed Markey on Tuesday.
Mr Markey, 74, will stand for another six-year term in the election on 3 November.
It is the first time a member of the Kennedy dynasty has been defeated in a congressional vote in the state.
Mr Kennedy, 39, is currently serving his fourth term in Congress and was seen as a favourite when he announced he would run for the seat in September last year.
He was supported by House Speaker Nancy Pelosi and delivered the Democratic response to President Donald Trump's State of the Union address in 2018.
But neither his record nor his family's legacy were enough to ensure victory against Mr Markey, a political veteran who co-authored the Green New Deal with Congresswoman Alexandria Ocasio-Cortez.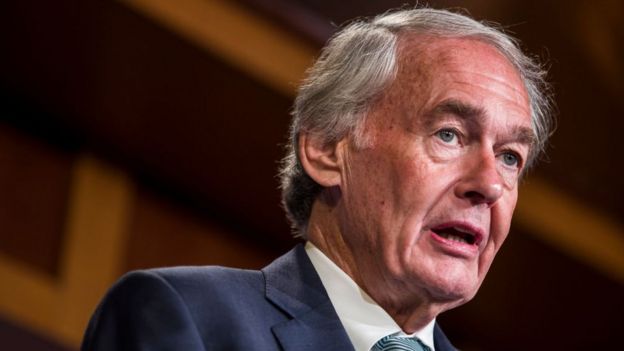 "Our movement is fuelled by young people who are not afraid to raise their voices or make enemies," Mr Markey wrote on Twitter after Tuesday's primary.
"Tonight's victory is a tribute to those young people and to their vision."
The Kennedy name still opens a lot of doors in Massachusetts, but it is no longer a golden ticket at the ballot box.
That is the lesson learned the hard way by Joe Kennedy, whose bid to unseat Ed Markey came up well short.
Mr Kennedy boasted a famous surname and the reputation as a rising star among Democrats, but Mr Markey had the backing of the party's liberal wing and a particularly valuable endorsement from Alexandria Ocasio-Cortez. He worked with the New York congresswoman to sponsor the Green New Deal climate plan in Congress, which earned him the enthusiastic support of environmental activists.
Younger voters in particular backed Mr Markey by a significant margin, suggesting those who did not live through the golden years of the Kennedy clan may view the family not as a trusted political name, but rather the embodiment of establishment privilege and power.
Mr Markey's victory could also be a testament to the power of incumbency, as another congressional veteran, Richard Neal - chair of the powerful House Ways and Means committee - held off a strong challenge by younger liberal challenger Alex Morse.
Politicians who are generally well liked and not out-of-step with their constituents can be difficult to unseat.
Who are the Kennedys?
The Kennedy political dynasty is often referred to as the closest thing to a royal family in the US. However, their story has been as tragic as it has been illustrious - giving rise to theories about there being a "Kennedy curse".
The family's political career began with PJ Kennedy, who was elected to public office in 1884, 35 years after the family first immigrated from Ireland.
Then, in every year from 1947 to 2011, there was at least one Kennedy serving in federal elective office - with the most well-known, John F Kennedy (known as JFK), elected president in 1960. At 43, he was the youngest president in the country's history. He was assassinated in 1963.
JFK's brother, Robert (or Bobby) Kennedy, was also a prominent Democrat. In 1968 he was the front-runner to be the Democratic presidential candidate, but shortly after the California primary he was, like his brother, shot dead.
JFK's son, John F Kennedy Jr, was a prominent lawyer and magazine founder, but he died tragically too. When he was 39, he accidentally flew his plane into the Atlantic, killing himself, his wife Carolyn and her older sister Lauren. Michael LeMoyne Kennedy, one of Bobby Kennedy's 11 children, died at the age of 39 in a skiing accident in Aspen, Colorado. Another son of Bobby's, David, died of a drug overdose at 28.
A third son of Bobby's, Robert F Kennedy Jr, is a prominent lawyer specialising in Environmental Law. However, he has become increasingly controversial in recent years for his vocal support for a widely debunked belief that vaccinations cause autism.
Although the family's most famous members have been politicians, others are known for their prominent work in business, entertainment and public service. Maria Shriver, niece of John F Kennedy, is now a prominent journalist and author, and served as first lady of California when her ex-husband, actor Arnold Schwarzenegger, was governor of the state.