Myanmar's military has taken power in a coup and declared a state of emergency, hours after detaining Aung San Suu Kyi and other senior figures from the ruling party.
Phone and mobile internet services in the city of Yangon were down on Monday morning and military trucks, one carrying barbed-wire barriers, were parked outside City Hall. The state-run MRTV network said it had been unable to broadcast. Banks were closed across the nation.
Military television said the army had taken control of the country for one year, with power handed to the commander-in-chief, Gen Min Aung Hlaing. It said the army had detained senior government leaders in response to "fraud" during last year's general election.
A statement attributed to Aung San Suu Kyi said the military was trying to reimpose a dictatorship. "I urge people not to accept this, to respond and wholeheartedly to protest against the coup by the military, the statement said.
The military's actions brought swift condemnation from leaders and human rights experts around the world.
President Joe Biden's press secretary, Jen Psaki, said the US opposed "any attempt to alter the outcome of recent elections or impede Myanmar's democratic transition, and will take action against those responsible if these steps are not reversed".
The US secretary of state, Antony Blinken, also called for the release of Aung San Suu Kyi and other detainees. The UN secretary general, António Guterres, said the developments represented "a serious blow to democratic reforms in Myanmar".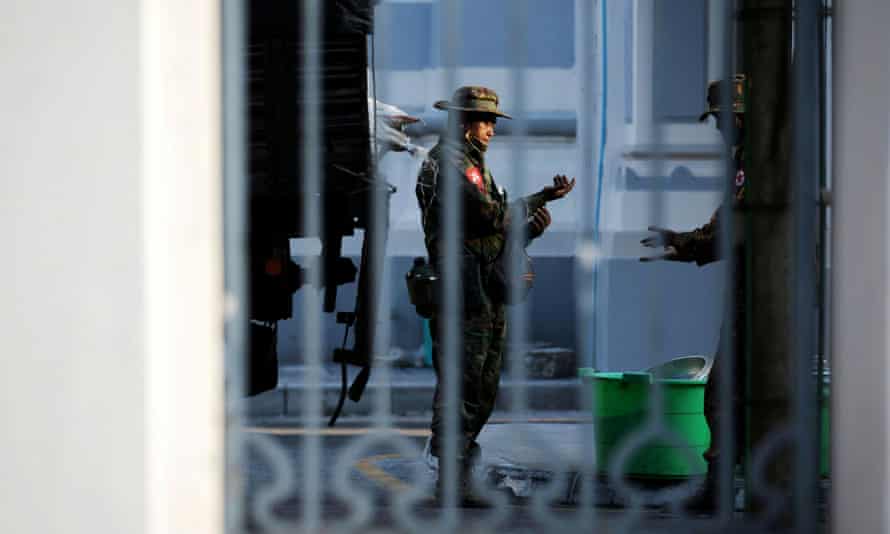 Over the past week, there has been mounting concern that the army, which ran Myanmar alone for half a century until 2011, was preparing for a return to full military rule. It has alleged widespread irregularities in November's election, which Aung San Suu Kyi's party won in a landslide victory and said last week that a coup could not be ruled out, prompting the UN and several foreign missions in the country to express alarm.
The military later backtracked, claiming comments by its commander-in-chief had been misunderstood. Over the weekend, however, armed police patrolled the housing where lawmakers were quarantining ahead of the opening of parliament this week.
On Monday morning, the spokeperson Myo Nyunt told Reuters that Aung San Suu Kyi, President Win Myint and other leaders had been "taken" by the military. "I want to tell our people not to respond rashly and I want them to act according to the law," he said, adding he also expected to be detained.
A National League for Democracy (NLD) lawmaker, who asked not to be named for fear of retaliation, said also detained was Han Thar Myint, a member of the party's central executive committee. A student union leader was also reportedly held.
The author and historian Thant Myint-U wrote on on Twitter: "The doors just opened to a very different future. I have a sinking feeling that no one will really be able to control what comes next. And remember Myanmar's a country awash in weapons, with deep divisions across ethnic & religious lines, where millions can barely feed themselves."

Read More (...)