The simple monument is stark and sharp-edged, a pointed block of black-veined marble memorialising a dark chapter in northern Afghanistan during a momentous history.
At this hour, as America edges closer to ending its longest war, it seemed fitting that a visiting delegation of senior American and Afghan military officers should pause at this spot to acknowledge a 32-year-old CIA officer - the first US casualty in the war to topple the Taliban in 2001.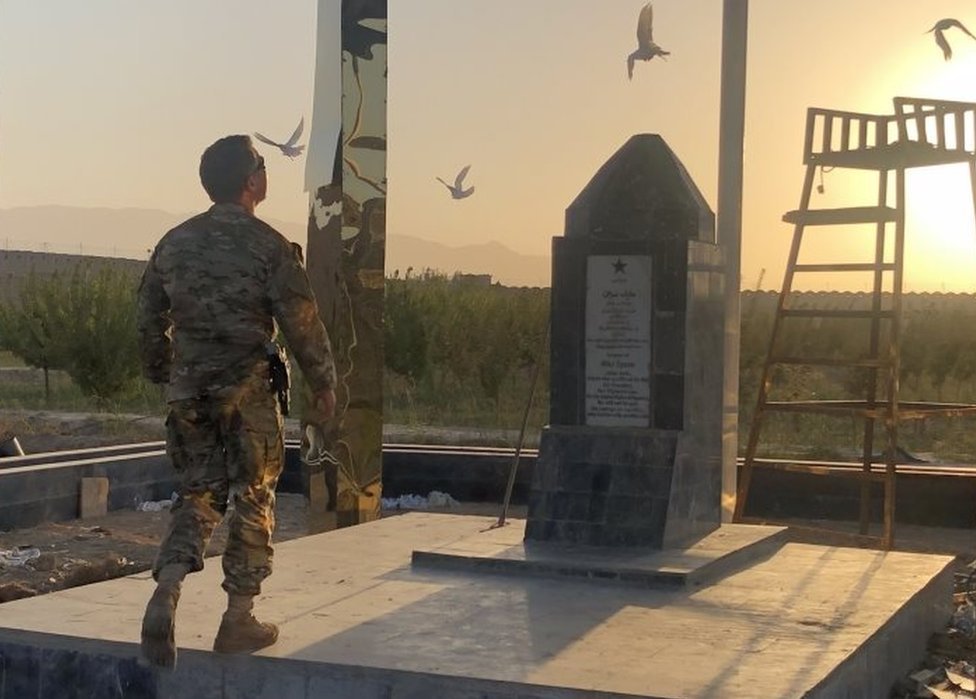 Chiselled in Persian script and in English, this marble marker honours Mike Spann, who was killed in a frenzied and bloody battle in November that year: "A hero who sacrificed his life: for freedom; for Afghanistan; for the United States of America."
Nineteen years on, after the deaths of more than 3,500 coalition forces and more than 110,000 Afghans killed, the overriding concern is averting a chaotic conclusion - at worst another descent into civil war - as the countdown gathers pace for the gradual removal of the last US and Nato forces in Afghanistan.
'All sides' must reduce violence
"What we are trying to do is prevent any negative outcomes and keep pushing the situation back into a place where Afghanistan is not faced with civil war, or even less stability than it has now, " says the top US soldier in Afghanistan, Gen Scott Miller, who commands Nato's Resolute Support Mission.
The Taliban, now at their greatest strength since 2001, are advancing and attacking in districts across Afghanistan - despite a deal signed with the US in February which seemed to promise a respite to a nation exhausted by war and increasingly worried it will only get worse.


"The violence must come down," Gen Miller repeatedly emphasised in an interview with the BBC during one of his regular stops at American and Afghan military bases across the country. He is meeting civilian and military leaders charged with ensuring the best possible transition.
"I am specifically asking the Taliban to bring down the violence and it can't be one-sided; all sides need to bring it down."
Under the terms of the February agreement, signed after more than a year of arduous negotiations in the Gulf state of Qatar, the last of 4,500 American troops, and 6,100 other Nato forces, are expected to leave by May of next year.
But the agreement says that is contingent on the Taliban meeting their commitments - including cutting all links to extremist groups like al-Qaeda. They want to to ensure Afghanistan does not become a haven to mastermind strikes like the 11 September 2001 attacks which catapulted Nato forces into this crucial and costly engagement.
Not a single American soldier has been killed in Taliban attacks since February. But the deal's reference to reducing violence against Afghans is vague, and is now the focus of conflicting interpretation and argument.
That's kept Gen Miller and US envoy Zalmay Khalilzad constantly shuttling between cities including Doha and an array of regional capitals whose longstanding meddling in Afghanistan is also on a worrisome spiral.
Read More (...)