op Democrats have condemned the firing by Donald Trump of top cybersecurity official Christopher Krebs after he refuted the president's claims of election fraud.
Trump had appointed Krebs director of the Cybersecurity and Infrastructure Security Agency at the Department of Homeland Security when CISA was established in 2018.
In an implicit criticism of the unsubstantiated claims of fraud made by Trump, CISA rejected assertions that voting systems were compromised, and said in a statement that the election, whose result Trump has refused to accept, was "the most secure in American history."
But in firing Krebs on Monday, Trump took a swipe at the statement, saying that it was "highly inaccurate," and asserted without evidence that "there were massive improprieties and fraud."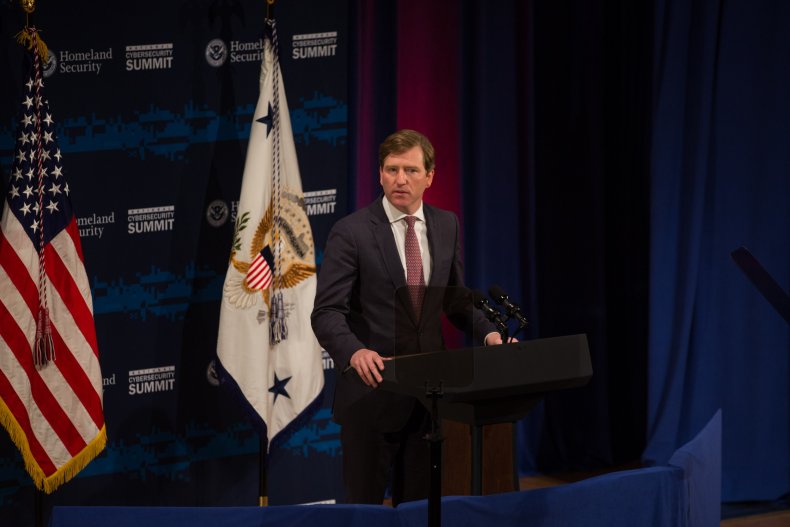 These included, according to the president, "dead people voting," observers not being allowed into polling stations and "'glitches' in the voting machines."
After his dismissal, Speaker of the House Nancy Pelosi described Krebs as a "deeply respected cybersecurity official" whose "patriotic service" had worked to dispel misinformation.
"The President's insistence on distracting and dividing the country by denying his defeat in the election undermines our democracy," she said in a statement, citing the conclusion of top election officials that there was no evidence "any voting system deleted or lost votes, changed votes, or was in any way compromised."
"Instead of stooping to this dangerous and shameful charade, Trump needs to get serious about crushing the accelerating pandemic that has killed nearly 250,000 Americans, infected over 11 million people in our country and devastated the livelihoods of tens of millions more," Pelosi added.
News outlets had reported that Krebs was expecting to be fired and he had earned bipartisan support for his work as a trusted security official at the top of the federal agency working to secure the elections.
Chairs of the house homeland security committee, Lauren Underwood (D-IL) and Bennie Thompson (D-MS), issued a joint statement describing Trump's move as one that "makes America less safe."
"In firing Director Krebs for refusing to lend credibility to his baseless claims and conspiracy theories about voter fraud, the president is telling officials throughout the Administration to put his political interests ahead of their responsibilities to the American people. That is not only disturbing, it is antidemocratic."

READ MORE