Andrew Bishop, global head of policy research at Signum Global Advisors, talks about the U.S.-China trade spat.

Go inside the global economy with Stephanie Flanders in her new podcast, Stephanomics. Subscribe via Pocket Cast or iTunes.
President Donald Trump plans to meet his Chinese counterpart Xi Jinping at next month's G-20 summit, an encounter that could prove pivotal in a deepening divide over trade that is sending stocks tumbling and clouding the outlook for the global economy.
Trump said the U.S. was expecting China to retaliate against American tariffs, but argued that Beijing still wants to make a deal. But he warned Xi's government not to go too far in responding to U.S. trade actions.
"There can be some retaliation but it can't be very substantial," Trump told reporters Monday at the White House during a meeting with Hungarian Prime Minister Viktor Orban.
Leaders of the Group of 20 economies are scheduled to meet June 28-29 in Osaka, Japan. Earlier, Treasury Secretary Steven Mnuchin said talks between the U.S. and China are ongoing, and he's working on the details of another trip to the Asian nation.
U.S. stocks pared losses following the comments by Mnuchin and Trump. The S&P 500 had been headed for its biggest slide in four months, while Treasuries rallied with the yen on demand for for haven assets.
China announced plans earlier Monday to raise duties on some American imports starting June 1, defying a call from Trump to resist escalating the trade war.
Less than two hours after Trump tweeted a warning that "China should not retaliate -- will only get worse!" the Ministry of Finance in Beijing unveiled the measures on its website. The new rate of 25% will apply to 2,493 U.S. products, with other goods subject to duties ranging from 5% to 20%, it said.
The next salvo was poised to come later Monday, when the Trump administration is expected to provide details of its plans to impose a 25% additional tariff on all remaining imports from China -- some $300 billion in trade.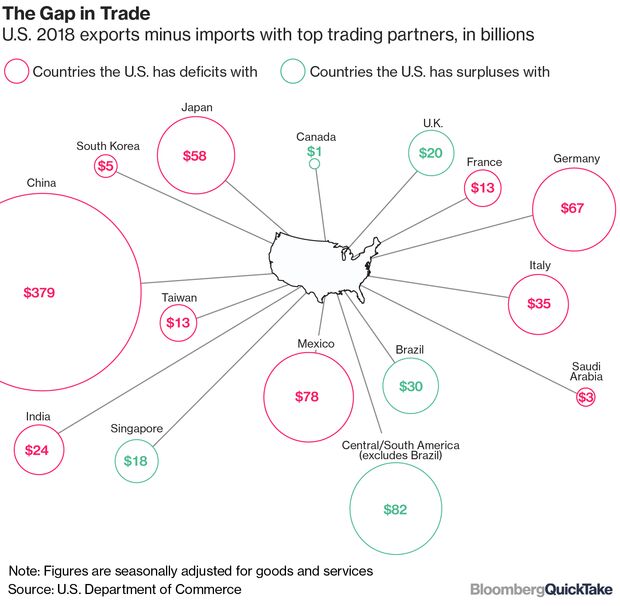 Higher U.S. tariffs will drive up the Federal Reserve's preferred measure of underlying inflation, and further escalation could raise consumer prices even more and dent U.S. growth, Goldman Sachs Group Inc. economists said in a research note.
China's move to hike tariffs came in response to the U.S.'s decision last week to increase levies on $200 billion in Chinese imports to 25% from 10%. Trump on Monday accused China of backing out of a deal that was taking shape with U.S. officials, saying Beijing reneged on an agreement to enshrine a wide range of reforms in Chinese law.
"I say openly to President Xi & all of my many friends in China that China will be hurt very badly if you don't make a deal because companies will be forced to leave China for other countries," Trump wrote on Twitter. "You had a great deal, almost completed, & you backed out!"
Analysis: New Tariffs to Hit U.S. Consumers, China May Further Ease Policy
China's retaliation matches Trump's latest move in that it simply hikes the duties on a list of thousands of items that had already been targeted in an earlier phase of the trade war.
Beijing's retaliation on about $60 billion of U.S. goods includes extra tariffs of as much as 25% on goods ranging from small aircraft, computers, and textiles to chemicals, meat, wheat, wine and LNG. Some auto parts remain exempted from retaliatory charges. Imports of cars aren't affected, as an extra duty of 25% from a separate list was suspended during the negotiations as a sign of goodwill.