The Guatemalan girl, who authorities there have named as Jackeline Caal, died of dehydration and shock, the Washington Post reports.
AP news agency quotes border officials as saying she had not had food or water for several days.
Thousands of migrants have travelled from Central America to the US border.
The migrants say they are fleeing persecution, poverty and violence in their home countries of Guatemala, Honduras and El Salvador.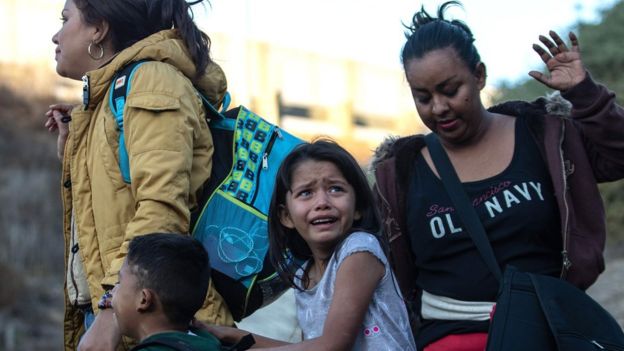 Many of them say their goal is to settle in the US despite warnings by US officials that anyone found entering the country illegally will face arrest, prosecution and deportation.
What do the US authorities say?
The Department of Homeland Security (DHS) said the girl was "apprehended with her father for illegal entry with a group of 163 illegal aliens" on Thursday of last week.
The US Border Patrol confirmed the girl started experiencing fever and seizures while in its custody.
She was flown to hospital in El Paso where she suffered cardiac arrest and died.
DHS head Kirstjen Nielsen told Fox News: "It's heart-wrenching. This is a very sad example of the dangers of this journey. This family chose to cross illegally."
A department statement earlier said: "Our sincerest condolences go out to the family of the child.
"Border Patrol agents took every possible step to save the child's life under the most trying of circumstances. As fathers and mothers, brothers and sisters, we empathise with the loss of any child."
Former secretary of state Hillary Clinton tweeted that the incident reflected a "humanitarian crisis" on the border:
Read More (...)