Mr Castro took over as president from his ailing brother Fidel in 2006.
An improvement in relations with the US which began under Barack Obama has been partially reversed since Donald Trump entered the White House.
Mr Castro is expected to remain a powerful influence in the communist state even after he steps down.
The National Assembly has voted on the nomination but the result will not be announced until Thursday, when he is expected to formally pass the presidency to Mr Díaz-Canel.
However, he will stay on as head of the Communist Party until its next congress in 2021.
The next Cuban leader will inherit a country in economic stagnation and with a young population impatient for change, BBC Cuba correspondent Will Grant reports.
There is also the complex task of leading without the same revolutionary past embodied by Raúl and Fidel, who died in retirement aged 90 in November 2016.
Who is Díaz-Canel?
He may have had a relatively low profile when he was first appointed vice-president of Cuba's Council of State in 2013 but he has since become Mr Castro's key ally.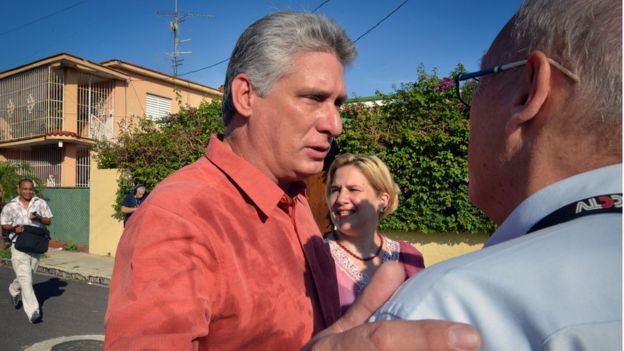 For the past five years, he has been groomed for the presidency and the handover of power. But even before being named first vice-president, the 57-year-old had already had a long political career.