Nearly 700 workers from seven agricultural processing plants were arrested for allegedly not having proper documentation to be in the US.
The raids sparked condemnation from Democrats as stories emerged of children separated from their parents.
Officials say they took steps to ensure any children were properly cared for.
Immigration and Customs Enforcement (ICE) said "approximately 680 removable aliens" had been detained during the operation, which saw agents arriving in buses to question and arrest workers at the plants.
President Donald Trump had announced an immigration crackdown in June, saying "millions of illegal aliens who [had] found their way into the US" would be removed.
What did ICE say?
ICE spokesman Bryan Cox told the BBC on Thursday that those who were not released will be moved to an ICE detention facility and held there.
"The 300 released are released from custody," he said in an emailed statement. "They were placed into proceedings before the federal immigration courts and will have their day in court at a later date."
Mr Cox said those arrested were asked if they had any dependents needing care or if they had any children at school who needed to be picked up.
They were given access to phones at the processing site to make arrangements to care for their children. He said those with child care issues are "expeditiously processed and returned".
In response to critics who called the raids cruel and harmful to the workers' children, Mr Cox said the agency had directed two Homeland Security Investigations employees to notify schools of the operation and provide contact details for any children whose parents did not pick them up.
"This agency took extensive steps in planning for this operation to take special care of situations involving adults who may have childcare situations or children at school at the time of their arrest."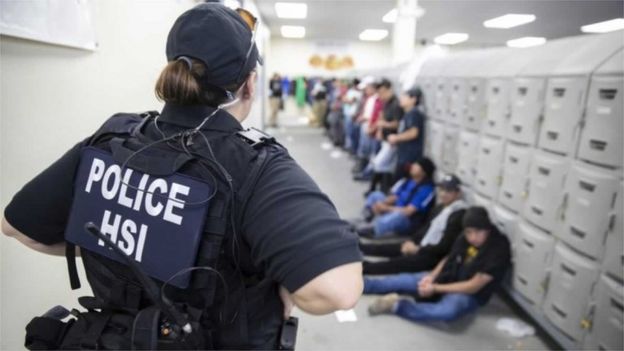 Those detained had been taken to a Mississippi National Guard hangar for questioning.
ICE did not share about the nationality of those detained, but the Mexican government has reportedly sent consular staff to the area to help any of their nationals who may be involved.
What happened at the plants?
The raids took place just hours before Mr Trump arrived in the majority Latino city of El Paso to mark a mass shooting which left 22 people dead.
About 600 ICE agents arrived at the chicken processing plants, owned by five different companies, in the towns of Bay Springs, Canton, Carthage, Morton, Pelahatchie and Sebastopol.
Friends and family looked on as officers surrounded plants and began to arrest the workers.

Read More (...)