The 22-year-old man set himself on fire after saying he faced severe financial difficulties, which he blamed on politicians and the European Union.
Students say his "desperate gesture" represents the current insecurity young people face in France.
He suffered 90% burns and is now in a critical condition hospital.
Since the incident in Lyon, the hashtag #laprécaritétue ("insecurity kills") has been trending on social media.
Hundreds of students gathered in Lyon and protests also took place in Paris and Lille, where former French President François Hollande was forced to cancel a planned conference.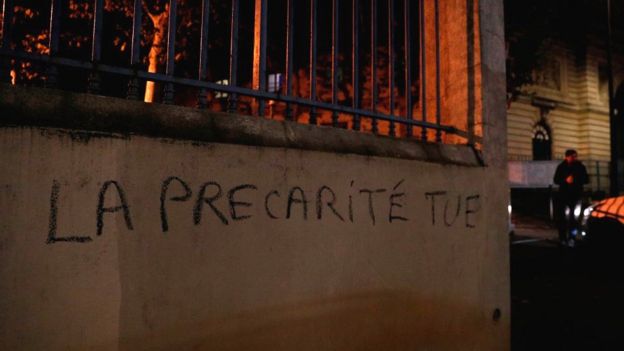 On Friday, the SUD-Éducation and Solidaires student unions spoke of the "precariousness" of "the life of the students".
They said the man's attempted suicide could not "be reduced to despair alone"
What happened to the student?
The 22-year-old set fire to himself in front of a university restaurant in Lyon.
The man posted on Facebook about his financial difficulties just hours before self-immolating in front of a university restaurant in Lyon.

Read More (...)