---
An Iowa student found dead outside a college building is among the victims of the deadly freeze.
Hospitals have been treating patients reporting frostbite as life across a swathe of the nation grinds to a halt.
The iciest blasts may still come on Thursday. Ninety million people - a third of the US - have seen temperatures of -17C (0F) or below.
Some 250 million Americans overall have experienced the "polar vortex" conditions, but southern states such as Florida have escaped the brutal chill.
How did the fatalities occur?
University of Iowa student Gerald Belz, 18, was found unresponsive behind a campus building before dawn on Wednesday and later died in hospital. Officials said weather was a factor. His father told local news channel KCRG that Gerald was a "mama's boy with a tough exterior".

A 70-year-old man in Detroit, Michigan, was found dead in front of a neighbour's home on Wednesday

Another Michigan man in his 70s was found frozen to death in his neighbourhood. Officials said he was "inadequately dressed for the weather" and was probably disoriented

On Tuesday, 55-year-old Charley Lampley froze to death in a garage in Milwaukee, Wisconsin, having "apparently collapsed after shovelling snow", according to a medical examiner

An 82-year-old man in Pekin, Illinois, died from hypothermia after apparently falling outside his home on Tuesday

A 75-year-old man was fatally struck by a snow plough near Chicago on Monday. The driver has since been placed on paid leave pending an investigation, according to WGN9 News

In northern Indiana, a young couple died after a collision on icy roads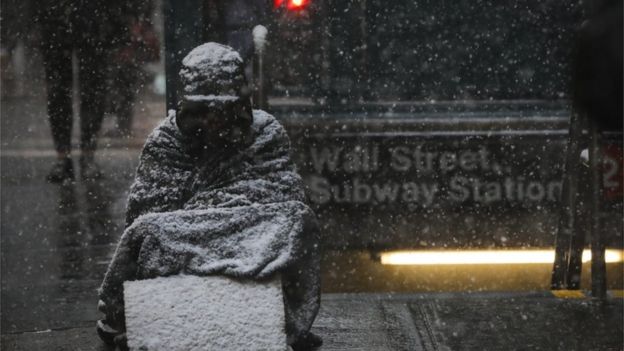 What's the forecast?
Thursday could see America's third largest city of Chicago breaking its 1985 record low of -32C (-25F), according to meteorologists. The city has already passed the record low for 31 January.
Read More (...)