The justices ruled 7-2 that Curtis Flowers' right to a fair trial had been violated.
Flowers, 49, has been tried six times for the murders of four furniture store workers in Winona, Mississippi, in 1996.
The state could still put him on trial a seventh time.
What happened in the trials?
Flowers was found guilty in his first three trials - the first one with an all-white jury and the next two with just one black juror. The fourth and fifth trials ended in mistrials.
Mississippi's Supreme Court overturned the first three convictions due to "numerous instances of prosecutorial misconduct", including discriminating against black jurors.
US prosecutors are able to dismiss a limited number of potential jurors at the start of a case without stating a reason, but a 1986 Supreme Court ruling made it illegal to do so on the basis of race.
In the sixth trial prosecutors disallowed five of six black jurors, which Flowers argued was discriminatory.
The Mississippi Supreme Court upheld the sixth conviction, but the US Supreme Court overturned it on Friday.
What did the US Supreme Court decision say?
Justice Brett Kavanaugh, who wrote the majority opinion, said the state had "engaged in dramatically disparate questioning" of prospective jurors based on race.
His opinion pointed out that one excluded black juror in particular, Carolyn Wright, was "similarly situated" to white jurors whom the prosecution did not oppose.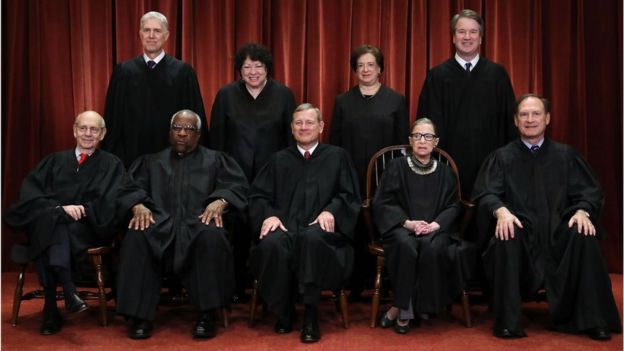 Justice Kavanaugh said the lower court had "committed clear error" by ruling that this selection "was not 'motivated in substantial part by discriminatory intent'".
In a concurring opinion, Justice Samuel Alito noted it was "risky" for the case to be tried "once again by the same prosecutor".
Montgomery County District Attorney Doug Evans, who is white, tried Flowers six times.
What did the dissenting justices say?
Justices Clarence Thomas and Neil Gorsuch disagreed.
In his dissent, Justice Thomas called the majority opinion "manifestly incorrect", saying it would prolong the "nightmare" of the victims' families.

He also noted the majority did not dispute the guilty verdict, or the impartiality of the jury - just the prosecutor's conduct.
Justice Thomas - who is the court's only African-American justice - pointed out that the defence had also used peremptory strikes to remove potential white jurors.
He wrote: "If the Court's opinion today has a redeeming quality, it is this: The State is perfectly free to convict Curtis Flowers again."

Read More (...)