Turkey's President Recep Tayyip Erdogan said the operation was to create a "safe zone" cleared of Kurdish militias which will also house Syrian refugees.
According to the Kurdish-led Syrian Democratic Forces (SDF), civilian areas came under attack from Turkish planes.
Turkish ground forces have also been massing on the border.
The offensive was launched just days after President Donald Trump controversially withdrew US troops from northern Syria, a decision announced after a phone call with Mr Erdogan that sparked widespread criticism at home and abroad.
The Kurds - key US allies in defeating the jihadist group Islamic State (IS) in Syria - guard thousands of IS fighters and their relatives in prisons and camps in areas under their control and it is unclear whether they will continue to be safely detained.
On Twitter, Mr Erdogan said the mission "was to prevent the creation of a terror corridor across our southern border, and to bring peace to the area" and that it would "preserve Syria's territorial integrity and liberate local communities from terrorists."
The Turkish government wants to create a "safe zone" cleared of Kurdish militias which will also house two million of Turkey's 3.6 million Syrian refugees.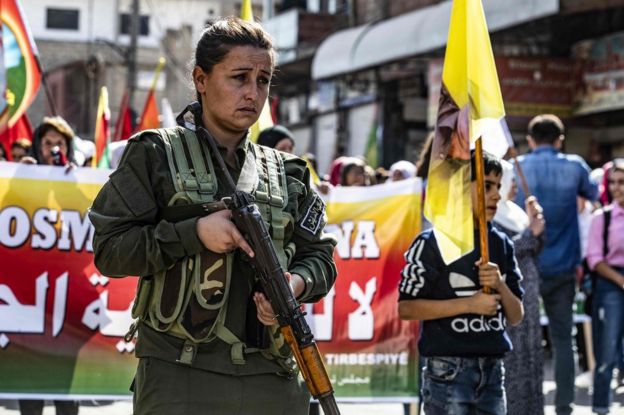 Several large explosions were reported in the border town of Ras al-Ain while blasts were also heard in the Tal Abyad, according to the Reuters news agency.
In other developments:
SDF spokesman Mustafa Bali said there was "huge panic among people of the region"

The SDF asked the US and the coalition against IS to establish a no-fly zone in the area "to stop the attacks on innocent people"

Earlier, the Kurdish-led administration in the region called on civilians to "head to the border with Turkey to fulfil their duty"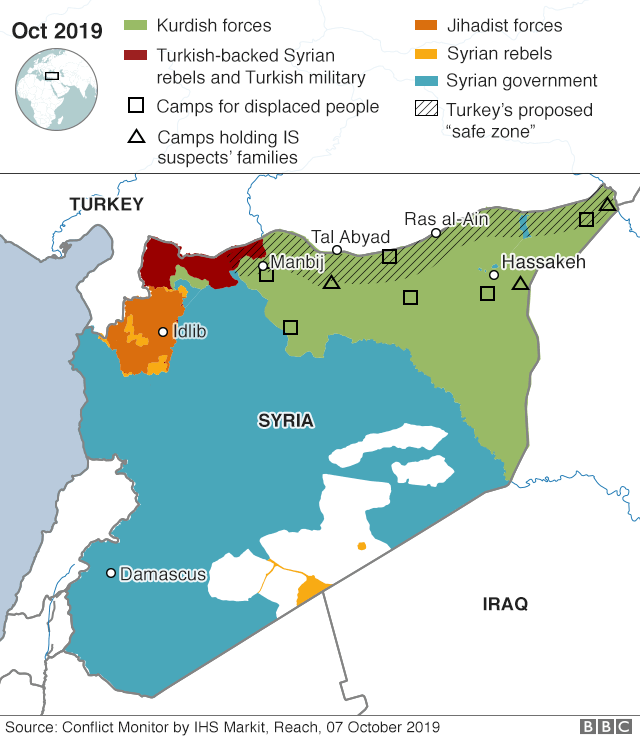 Mr Trump's withdrawal of the few dozen US troops in the border area was seen as a "stab in the back" by the SDF and drew condemnation even from the president's Republican allies.
He responded to the criticism by threatening to "obliterate" Turkey's economy if it went "off limits" in the incursion, saying Turkey should "not do anything outside of what we would think is humane".