Kurdish Peshmerga commanders said they made large advances into IS territory and secured part of a highway that will limit IS's freedom of movement.
In an attempt to divert attention from the Mosul offensive, IS militants attacked a town in the west on Sunday.
The Iraqi military says the situation in Rutba is now "under control".
The town, in Iraq's western Anbar province, had been under IS control since 2014, but was taken back into government hands four months ago.
As the pressure builds on IS in and around Mosul, the group has been counter-attacking with suicide bombers and launching assaults in other areas.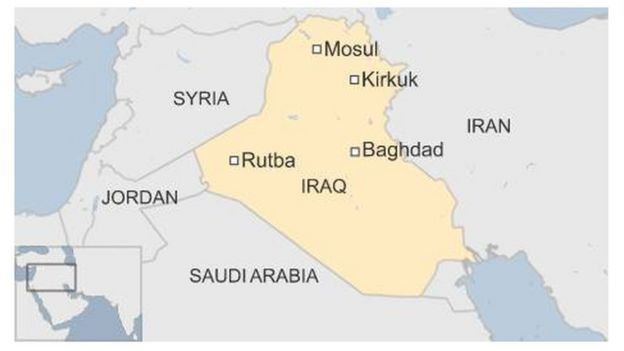 The top US commander in Iraq, Lt Gen Stephen Townsend told reporters there had been "considerable success" in Bashiqa on Sunday.
But he cautioned: "I have not received a report that says every house has been cleared, every Daesh [IS fighter] has been killed and every IED [roadside bomb] has been removed."
Journalists have not yet been allowed into the town.
Reuters TV footage, shot from a nearby village, showed smoke rising from Bashiqa as Kurdish fighters launched attacks against IS with mortars and machine guns.
Bashiqa is close to a military base where Turkish troops are training Sunni and Kurdish fighters.
Voices from Mosul as battle nears
Dodging ghosts of IS in the desert
Turkey insists forces cannot remain idle
On Friday, US Defence Secretary Ash Carter suggested Turkey should play a role in the Mosul offensive, but the Iraqi PM Haider al-Abadi balked at the idea, telling the US that there is no need for Turkish forces yet.
Turkey has insisted that its forces cannot remain idle during the fight to drive IS militants from Mosul.
Mr Carter, who is visiting Kurdish officials in Erbil, said the US was planning simultaneous operations against IS in Mosul and in the group's Syrian stronghold Raqaa, AP reports.
He said Washington wanted to begin military operations against IS fighters in Raqaa "as soon as possible".
A US-led coalition is backing the assault on Mosul with warplanes and military advisers.
Some 30,000 Iraqi security force personnel, Kurdish Peshmerga fighters, Sunni Arab tribesmen and Shia militiamen are involved in the offensive.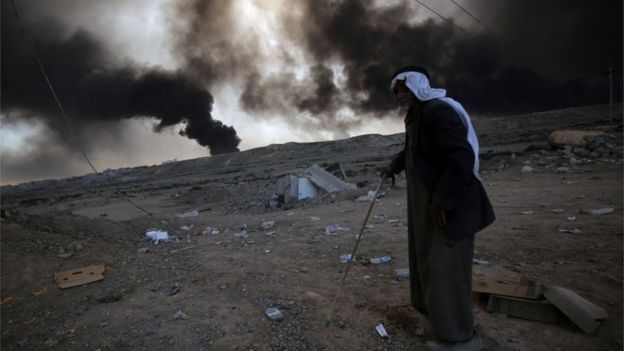 The UN says that 5,000 people have been displaced so far by the recent fighting around Mosul. It expects another 200,000 will be uprooted in the coming weeks.
Coalition fighters have continued to push back IS positions around Mosul. Peshmerga commanders say advanced within 9km (5.5miles) from the city.