President Michel Aoun said the blast was caused by 2,750 tonnes of ammonium nitrate stored unsafely in a warehouse.
Many have accused the authorities of corruption, neglect and mismanagement.
The blast killed at least 137 people and injured about 5,000 others, while dozens are still missing. A two-week state of emergency has begun.
French architect Jean-Marc Bonfils, involved in rebuilding the city after the civil war, and firefighter Sahar Fares, one of the first responders at the scene, were among the first fatalities to be named. A German diplomat was also among the dead.
"Beirut is crying, Beirut is screaming, people are hysterical and people are tired," filmmaker Jude Chehab told the BBC, calling for the people responsible to face justice.
Chadia Elmeouchi Noun, a resident currently in hospital, said: "I've known all the time that we are led by incompetent people, incompetent government... But I tell you something - what they have done now is absolutely criminal."
On Wednesday, the government announced that a number of port officials were placed under house arrest pending an investigation into the explosion.
The country's Supreme Defence Council insisted that those found responsible would face the "maximum punishment".
Meanwhile, Amnesty International and Human Rights Watch (HRW) have called for an independent investigation into the blast. In a statement, HRW said it had "serious concerns about the ability of the Lebanese judiciary to conduct a credible and transparent investigation on its own".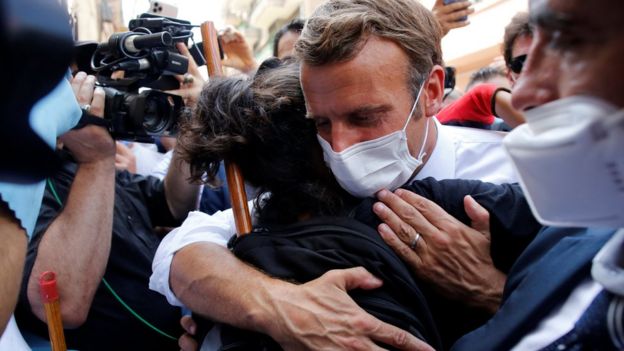 On Thursday President Emmanuel Macron became the first world leader to visit the country - a former colony of France - since the tragedy. He was mobbed as he walked around the city.
He told crowds he would not let aid go to "corrupt hands", and promised to call for a "new political pact" from the country's leaders.
A city of sirens, empty buildings and empty streets
By Quentin Sommerville, BBC News, Beirut
This port was Lebanon's lifeline to the whole world. Something like 80% of the county's grain came through here. I can see the grain silos, which were built way back when, and they're teetering really. They no longer look like they're going to survive. Just beyond there I can see a ship listing heavily. I've lived in Beirut for five years and it's almost unrecognisable - it's a city of sirens, of empty buildings, of empty streets.
As I look at the neighbourhood of Gemmayze just behind the port, I don't think I can see a single pane of glass left. Entire roofs have gone - I can see friends' apartments which are just open to the sky now. All of this area, which was really heavily populated, has been abandoned. No one is coming back here anytime soon.
What's really noticeable as you walk the streets here is that every second person seems to have a broom in their hand. There are clear-up teams everywhere, but it's pretty low tech: tiny teams of people with pans and brushes to clean up an an entire city's devastation.
The thing that really strikes me is how enormously stupid it was, what criminal negligence it took to leave this highly explosive material right in the very heart of this city, within yards of people, their homes, their businesses. And the authorities here knew - they had been warned that these chemicals were dangerous and that they were a great risk to Beirut and Lebanon.
What triggered the explosion?
The ammonium nitrate - which is used as a fertiliser and as an explosive - had been in a warehouse in the port for six years after it was unloaded from a ship impounded in 2013.
The head of the port and the head of the customs authority said that they had written to the judiciary several times asking that the chemical be exported or sold on to ensure port safety.
Port General Manager Hassan Koraytem told OTV they had been aware that the material was dangerous when a court first ordered it stored in the warehouse, "but not to this degree".

Read More (...)