The prime minister said the threat was now critical, meaning an attack is expected imminently, after a device was detonated at Parsons Green station.
Police said some 1,000 armed officers would be seen across the country after military assistance was requested.
So-called Islamic State has said it was behind the attack, which injured 29.
Mrs May said the military would be providing support to police and would replace them on guard duties at certain sites which are not accessible to the public.
She said: "The public will see more armed police on the transport network and on our streets, providing extra protection.
"This is a proportionate and sensible step which will provide extra reassurance and protection while the investigation progresses."

Twenty-nine people have been treated in hospitals, mostly for burns, following the attack at 08:20 BST on the eastbound District Line train from Wimbledon.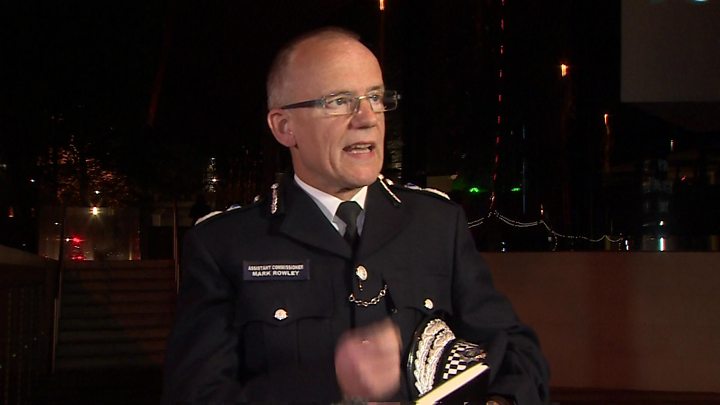 Assistant Commissioner Mark Rowley said police were "chasing down suspects".
He said the assistance from the military would "provide reassurance" across the country.
Mr Rowley said hundreds of police officers had been "trawling" through CCTV to find the attacker.
Mr Rowley said detectives were only aware of one device and refused to be drawn on details of the suspects because of the "covert" nature of the operation.
He also said it was "very routine" in incidents of this kind for IS to say it carried out the attack "whether or not they've had any previous engagement with the individuals involved".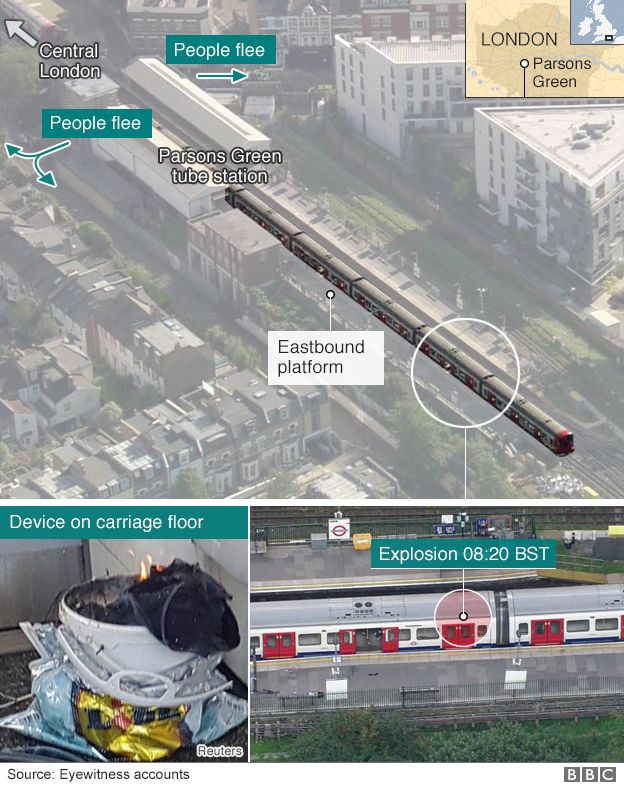 ---
What does terror threat level mean?
By Dominic Casciani, home affairs correspondent
A word of caution about "imminence".
The terror threat level was previously raised to critical in May after Manchester.
Then it was lowered again days later after it became clear to intelligence assessors in the Joint Terrorism Analysis Centre that an attack wasn't imminent.
Then we had two more incidents - Borough Market/London Bridge and Finsbury Park.
What does this tell us?
Intelligence is usually fragmentary.
Analysts sometimes only have glimpses or impressions of what they think is going on.
It's an imperfect world.
---
Pictures taken of the train showed a white bucket on fire inside a supermarket bag, with wires trailing on to the carriage floor. The BBC understands the device had a timer.
BBC security correspondent Frank Gardner said the bomb appeared not to have gone off properly.
Had it worked as intended, it would have killed everyone around it and maimed everyone in the train carriage for life, he said.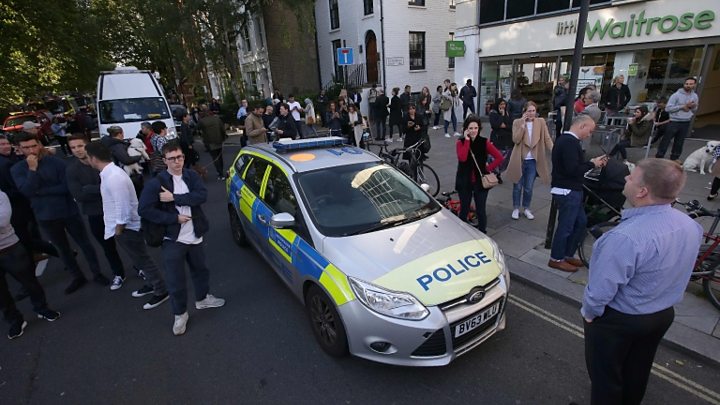 Earlier, US President Donald Trump spoke to Prime Minister Theresa May to convey his sympathies for those injured in the terrorist attack, the White House said.
President Trump pledged to continue close collaboration with the UK to stop attacks and combat extremism, the statement added.
US President Donald Trump had tweeted that the "sick and demented" people behind the attack had been in the sights of the Metropolitan Police, prompting Mrs May to say it was not helpful to "speculate" on an ongoing investigation.