---
---
Speaking in Downing Street, he said he would seek to repay the trust placed in him by Labour supporters who had voted Conservative for the first time.
He said he would not ignore those who opposed Brexit as he builds with Europe a partnership "of sovereign equals".
The Tories have won a Commons majority of 80, the party's largest since 1987.
It means the UK is heading out of the EU at the end of next month, the BBC's political editor Laura Kuenssberg said, with Mr Johnson's "thumping" majority allowing him to get the laws required through Parliament "in a matter of weeks".
The Conservatives' victory in the 650th and final contest of the election - the seat of St Ives, in Cornwall - took their total number of MPs up to 365. Labour finished on 203, the SNP 48, Liberal Democrats 11 and the DUP eight.
Sinn Fein has seven MPs, Plaid Cymru four and Northern Ireland's SDLP has two. The Green Party and NI's Alliance Party have one each.
The Brexit Party - which triumphed in the summer's European Parliament elections - failed to win any Westminster seats.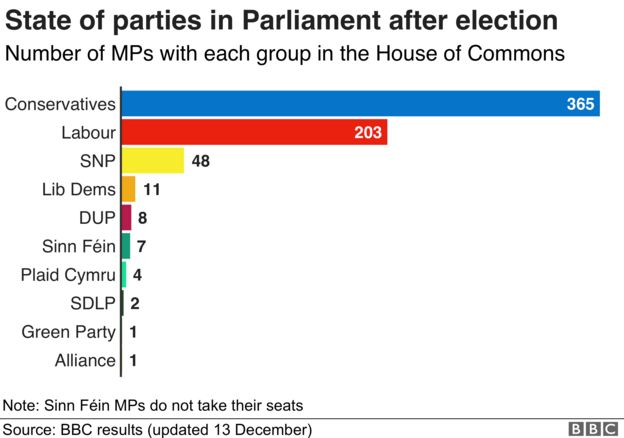 The Conservatives swept aside Labour in its traditional heartlands in the Midlands and the north of England and picked up seats across Wales, while holding off the Lib Dem challenge in many seats in the south of England.
Voter turnout overall, on a cold and damp polling day, was 67.3%, which is down by 1.5% on the 2017 total.
'Break from wrangling'
Speaking outside No 10, Mr Johnson thanked lifelong Labour supporters who deserted Jeremy Corbyn's party and turned to the Conservatives, saying he would fulfil his pledge to take the UK out of the EU on 31 January.
"I say thank you for the trust you have placed in us and in me and we will work round the clock to repay your trust and to deliver on your priorities with a Parliament that works for you".

Read More (...)