He said he wanted a new understanding with the central government in Madrid.
Catalan officials say voters overwhelmingly backed secession. Madrid has warned it could suspend autonomy of the wealthy north-eastern region.
Spain's top court banned the vote and almost 900 people were hurt as Spanish police tried to stop it going ahead.
Officers from the national police and paramilitary Civil Guard seized ballot papers and boxes at a number of polling stations.
Catalonia - victim of populist tug-of-war?
Thirty-three police officers were injured on Sunday, Catalan medical officials said.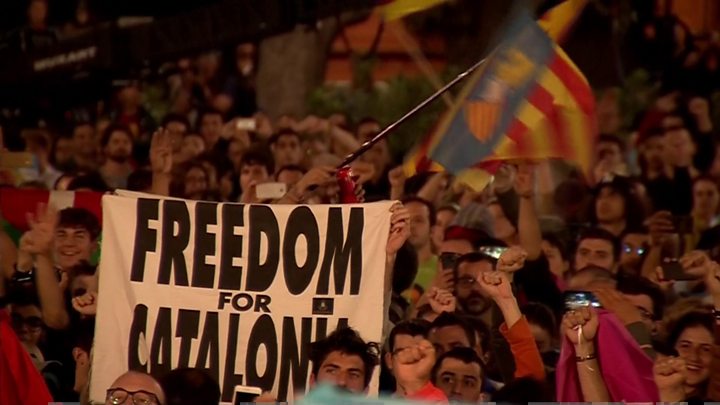 More than 2.2 million people were reported to have voted, according to Catalan authorities, out of 5.3 million registered voters.
Just under 90% of those who voted backed independence, they said.
A Catalan spokesman said more than 750,000 votes could not be counted because polling stations were closed and urns were confiscated. Turnout was put at 42.3%.
Given the chaotic nature of the vote, the turnout and voting figures should be taken with a pinch of salt, says the BBC's Tom Burridge in Barcelona.
More than 40 trade unions and Catalan associations called a region-wide strike on Tuesday due to "the grave violation of rights and freedoms".
What has the Catalan leader said?
At a news conference on Monday, Mr Puigdemont said: "We don't want a traumatic break... We want a new understanding with the Spanish state".
Mr Puigdemont, who earlier said Catalonia had won the right to statehood and the door was now open to a unilateral declaration of independence, said he had had no contact with the government in Madrid led by Prime Minister Mariano Rajoy.
The Catalan leader also announced that he was setting up a commission to investigate Sunday's violence and was taking legal action against national police.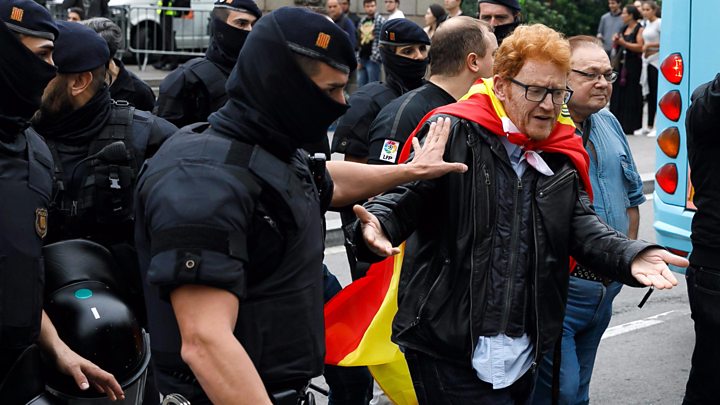 And Mr Puigdemont appealed for international mediation to help solve the growing crisis.
How has Madrid reacted?
Mr Rajoy spoke of a "mockery" of democracy, saying that Catalans had been fooled into taking part in the illegal vote.
"At this hour I can tell you in the strongest terms what you already know and what we have seen throughout this day. There has not been a referendum on self-determination in Catalonia," he said on Sunday.
The prime minister is now expected to hold urgent talks with Pedro Sanchez, the leader of the main opposition Socialist party, as well as Albert Rivera, the head of the centrist Ciudadanos party.
Meanwhile, Spain's justice minister warned that any declaration of independence could lead to article 155 of the country's constitution being invoked, which allows the national government to intervene in the running of an autonomous region.
"We are not here to divide Spaniards... but if someone tries to declare independence on behalf of a part of Spain's territory, that cannot be done because it is beyond their powers," said Rafael Catalá.
What happens next?
Analysis: Tom Burridge, BBC News, Barcelona
Spain's complicated relationship with the region of Catalonia is headed for the unknown.
After violence by Spanish police, a declaration of independence by Catalonia's regional government seems more likely than ever before.
Given the chaotic nature of the vote, turnout and voting figures should be taken with a pinch of salt. On Monday the government in Madrid will hold talks with Spanish parties to discuss a response to the biggest political crisis this country has seen in decades.
Meanwhile, the European Commission described the crisis as "an internal matter" for Spain, that has to be dealt with in line with the constitutional order.
"We trust the leadership of Prime Minister Mariano Rajoy to manage this difficult process," it said in a statement, urging all relevant players to move from confrontation to dialogue.
How bad was the violence?
TV images showed Spanish police kicking would-be voters and pulling women out of polling stations by their hair.
Officials said 893 people had been hurt in clashes, including 33 police. The majority had minor injuries or had suffered from anxiety attacks.
In Girona, riot police smashed their way into a polling station where Mr Puigdemont was due to vote, and forcibly removed those inside. He voted at another station.
The BBC's Tom Burridge witnessed police being chased away from one polling booth in Barcelona after they had raided it.
TV footage showed riot police using batons to beat a group of firefighters who were protecting crowds in Girona.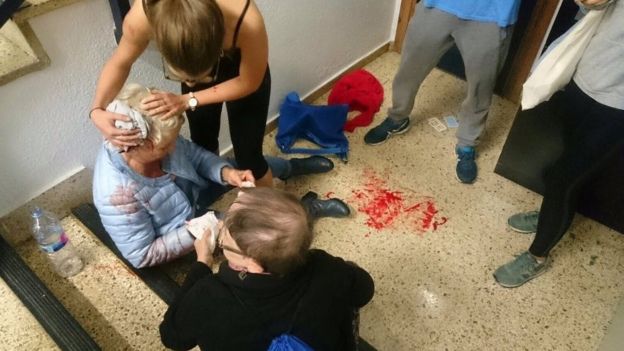 The national police and Guardia Civil - a military force charged with police duties - were sent into Catalonia in large numbers to prevent the vote.
The Catalan police - the Mossos d'Esquadra - have been placed under Madrid's control. However, witnesses said they showed little inclination to use force on protesters.
Barcelona Mayor Ada Colau, who voted blank on Sunday, condemned police actions against the region's "defenceless" population, but Spain's Deputy Prime Minister Soraya Saenz de Santamaria said police had "acted with professionalism and in a proportionate way".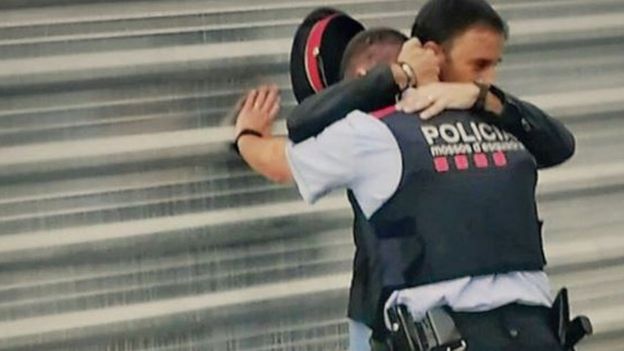 Large crowds of independence supporters gathered in the centre of the regional capital Barcelona on Sunday evening, waving flags and singing the Catalan anthem.
Anti-independence protesters have also held rallies in Barcelona and other Spanish cities.
How much voting took place?
Catalan authorities said 319 of about 2,300 polling stations across the region had been closed by police while the Spanish government said 92 stations had been sealed off.
Since Friday, thousands of people have occupied schools and other buildings designated as polling stations in order to keep them open.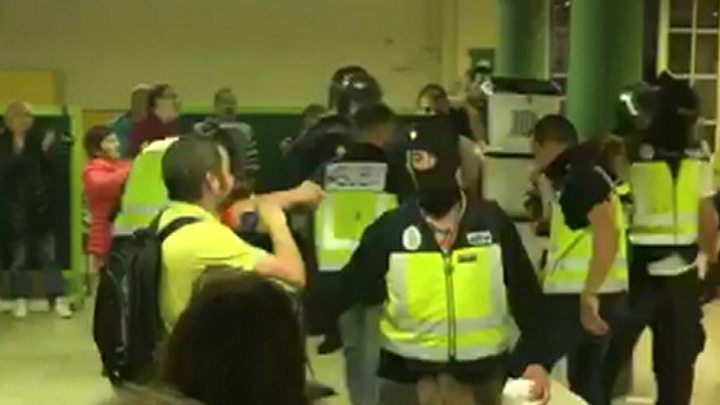 Many of those inside were parents and their children, who remained in the buildings after the end of lessons on Friday and bedded down in sleeping bags on gym mats.
The anti-independence Societat Civil said there were voting irregularities, including the same people voting twice.
Catalonia, a region of 7.5 million people, has its own language and culture.
It also has a high degree of autonomy, but is not recognised as a separate nation under the Spanish constitution.