He apologised on Wednesday after photos of two similar episodes - one when he was a teacher and another a student - came to light.
His Liberal Party says the video is genuine and dates from the early 1990s.
The revelations come amid campaigning for the 21 October election, when Mr Trudeau hopes to win a second term.
What is in the video?
The footage, first obtained by Global News, shows Mr Trudeau in a white T-shirt and torn jeans.
His face and limbs appear to be covered in black make-up. He is seen laughing, throwing his hands in the air, sticking his tongue out and pulling faces.
Mr Trudeau would have been in his late teens or early 20s.
What about the other episodes?
On Wednesday, the embattled PM apologised for wearing brownface make-up at a gala at a private Vancouver school where he taught nearly two decades ago.
The 2001 yearbook picture obtained by Time Magazine shows Mr Trudeau, then aged 29, with skin-darkening make-up on his face and hands at the West Point Grey Academy.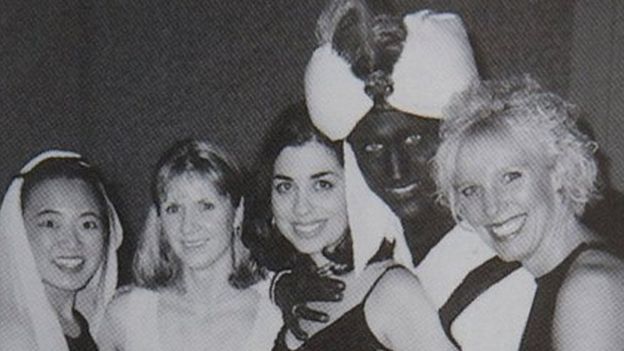 Addressing the image, Mr Trudeau said he "deeply regretted" his actions and "should have known better".
The second image to emerge on Wednesday shows Mr Trudeau performing in a talent show as a student at high school.

Read more (...)