President Donald Trump and North Korean leader Kim Jong Un met Sunday in a historic encounter at the Demilitarized Zone on the Korean Peninsula, where the US president invited his counterpart to visit the White House.
The two leaders shook hands and exchanged pleasantries at the truce village of Panmunjom inside the DMZ, the heavily fortified dividing line between North and South Korea established as part of the armistice that halted the Korean War in 1953.
Trump was joined on his trip to the DMZ — which took place after a visit from the commander-in-chief to the US troops stationed in South Korea — by South Korean president Jae-In Moon. Moon has been a vocal backer of the US leader's efforts to bring Kim into a dialogue and has had several historic meetings himself with Kim. (Also present at the DMZ: Fox News host Tucker Carlson.)
While waiting for Kim at the border, Trump used the time to bash the US media's coverage of the North Korea negotiations accusing journalists of having "no appreciation for what is being done. None."
Once Kim arrived, Trump strode across the demarcation line separating the two countries, becoming the first sitting US president to cross over into North Korea. "It's good to see you again. I didn't expect to meet you at this place," Kim told Trump after they shook hands.
Trump responded by telling reporters "I'll invite him to the White House right now." No North Korean leader has ever traveled to the United States.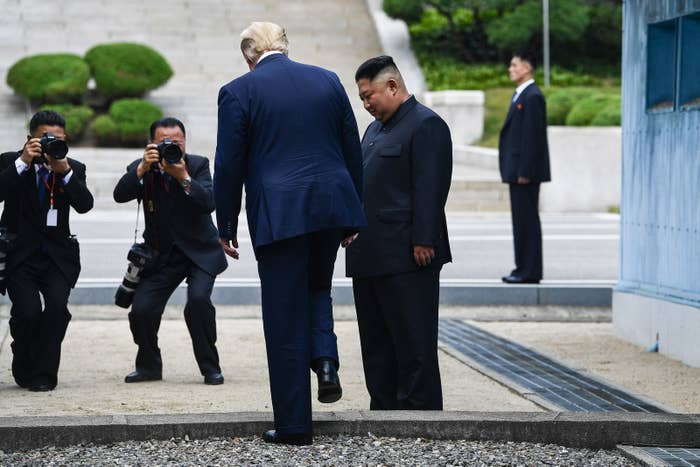 US President Donald Trump steps into the northern side of the Military Demarcation Line that divides North and South Korea
Trump and Kim then departed to a negotiating room for a one-on-one chat. They later joined Moon back across the demarcation line for another private meeting.
Such an encounter would have seemed unimaginable just a few years ago. But relations between the two countries have zig-zagged at breakneck speed in the years since Trump took office.
However, a deal to that would dismantle North Korea's nuclear weapons program and lift US sanctions has eluded both men.
The meeting — the third in-person encounter between Trump and Kim following two summits — had not been part of the president's original itinerary when he left for Asia earlier in the week, but was hurriedly organized in just over a day following a surprise Trump tweet on Saturday as he was wrapping up his time at the G20 Summit in Osaka, Japan.
"I will be leaving Japan for South Korea (with President Moon)," Trump wrote on Saturday morning as he began meetings in Japan, prior to heading to South Korea. "While there, if Chairman Kim of North Korea sees this, I would meet him at the Border/DMZ just to shake his hand and say Hello(?)!"
Trump later told reporters the tweet was unplanned, but he had wanted to "put out a feeler." In fact, the president had told the Hill earlier in the week that he was planning a secret trip to the DMZ in which he was considering meeting with Kim. The Hill held off on publishing the news at the request of White House officials, who cited security concerns.

Read More (...)