The Chinese government has strongly criticised the protesters, but many are wondering whether it will eventually lose patience and take more direct action.
What legal options does Beijing have to intervene, and could we ever see Chinese military action in Hong Kong?
Could China send in the army?
The Basic Law - Hong Kong's mini constitution since the UK handed the territory back to China in 1997 - is very clear. Chinese military intervention can only come at the request of the Hong Kong government, and for the "maintenance of public order and in disaster relief".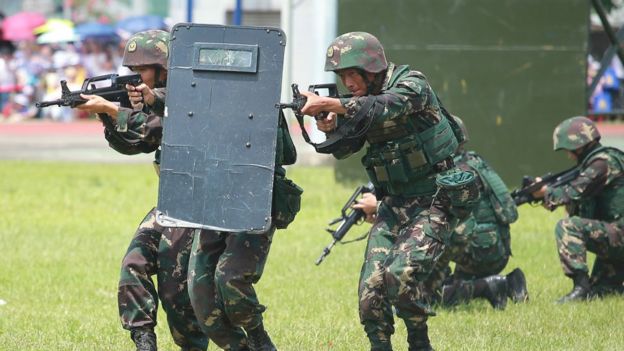 Most analysts say it is almost unthinkable that even a highly pro-Beijing Hong Kong government would want this.
Images of Chinese troops marching through Hong Kong crushing pro-democracy protests, even if they didn't use lethal force, would be disastrous for the territory's reputation, risk destabilising its economy and cause international outrage.
China's People's Liberation Army (PLA) has had about 5,000 personnel based in Hong Kong since the handover.
Adam Ni, a China researcher at Macquarie University, told the BBC the Hong Kong Garrison is "fairly low profile" and largely "a symbolic presence of China's sovereignty".
But on 31 July, the garrison broke its silence during the protests, releasing a video which included footage of soldiers shouting - in Cantonese - "all consequences are at your own risk", troops advancing against protesters and a scene where police held up a banner with the words "Stop charging or we use force", a warning commonly used by Hong Kong police during unrest.
It was widely seen as a warning about how China could respond, if called upon. Ben Bland, research fellow at Sydney's Lowy Institute, told AFP that China appeared to be playing on the threat of intervention "to try to scare off the protesters".
So far, China's top policy office on Hong Kong has said it has full faith in the police to handle the unrest. But spokesman Yang Guang also warned that "those who play with fire will perish by it" and protesters should not "mistake restraint for weakness".
Mr Ni said the political risk for the Chinese government, both domestically and internationally, of military intervention was simply too great, and could indeed worsen the crisis.
"Any military response short of overwhelming force would lead to further resistance," he told the BBC.
Can China intervene politically?
Arguably, China has already made a number of political interventions and that's been a driving factor behind recent protests.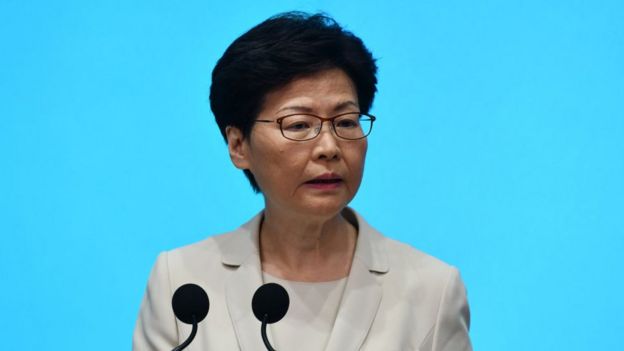 Hong Kong's parliament, the Legislative Council is tilted in Beijing's favour and in 2017, despite huge protests, a law was passed that meant candidates running to be its chief executive had to be pre-approved by a largely pro-Beijing committee. The winner, who must also be approved by the central government in Beijing, picks the ministers.
Carrie Lam was elected in 2017, and it was she who introduced the now-defunct extradition bill which sparked the new protests, becoming a focus of the anger herself.

Read More (...)