President Emmerson Mnangagwa said he had received "extremely positive" information but opposition leader Nelson Chamisa said his party was "winning resoundingly".
Zimbabwe is electing a new president, parliament and local councils.
Monday's vote - the first since long-serving ruler Robert Mugabe was ousted - attracted a high turnout of 70%.
The youth vote is expected to be key - with almost half of Zimbabwe's 5.6 million registered voters under the age of 35.
European Union and US election monitors have been allowed into the country for the first time in 16 years to assess whether the elections are free and fair.
Zimbabwe Electoral Commission (Zec) chairwoman Priscilla Chigumba said she was satisfied there was no cheating.
"We will not subvert [the people's will]," she told journalists.
But Mr Chamisa's opposition MDC Alliance says they have serious concerns that some people have tried to interfere with the results.
Ballots were "stuffed" in some areas where the MDC Alliance did not have polling agents, MDC Alliance official Tendai Biti told the BBC.
Previous polls have been marred by allegations of widespread rigging and intimidation.
The ruling Zanu-PF party has been in power since independence in 1980.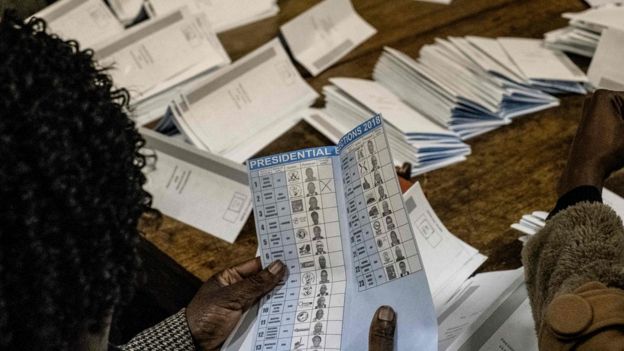 When will we know the winner?
Zec has until Saturday to announce the results but Ms Chigumba said she expects the announcement to be made well within that deadline.
Observers say the race between Mr Mnangagwa's Zanu-PF party, and Mr Chamisa's MDC Alliance, is extremely tight.
Both men are among 23 candidates running for president.
They both hinted at victory on Tuesday, but said they were waiting for Zec to make the announcement.

Read More (...)