"I have president Putin, he just said it's not Russia. I will say this. I don't see any reason why it would be," President Trump said, standing at podium side-by-side with the Russian president during a joint press conference Putin in Helsinki, Finland.
He continued: "So I have great confidence in my intelligence people, but I will tell you that President Putin was extremely strong and powerful in his denial today."
While Putin has long denied Russian involvement and did so again Monday, the U.S. intelligence community has long maintained that Russia did in fact meddle in the U.S. election, and just three days ago, the Justice Department indicted 12 Russian government agents for hacking the Democratic Party during the 2016 election.
Trump said Monday that Putin made an "incredible offer" to allow US investigators work alongside Russian investigators.
"He offered to have the people working on the case come and work with their investigators with respect to the 12 people. I think that's an incredible offer," Trump said.
President Trump said that relations between the two nations were at a historic low point prior to today's meeting but argued that relations have already taken a positive turn as a result of today's diplomatic engagement.
"Our relationship has never been worse than it is now. However, that changed as of about four hours ago. I really believe that," President Trump said.
Trump described the conversations as "direct, open, [and] deeply productive," while Putin called the meeting a "success" and "fruitful."
Asked if he holds Russia accountable for any specific element of the strained relations between the two nations, Trump said he holds both countries accountable but specifically zeroed in on the ongoing special counsel probe in the US as a "disaster" that has divided the U.S. domestically and for having a damaging impact on US-Russian relations.
"I do feel that we have both made some mistakes," Trump said. "I think that the probe is a disaster for our country. I think it's kept us apart. It's kept us separated. There was no collusion at all. Everybody knows it."
"We won that race," Trump said, referencing his victory over Hillary Clinton. "It's a shame there could be a cloud over it. People know that. People understand it. The main thing – we discussed this also – is zero collusion. It has had a negative impact upon the relationship of the two largest nuclear powers in the world."
When a reporter questioned Putin on his continued denials of US election meddling, President Trump jumped in to say "we ran a brilliant campaign, and that's why I'm president."
Even as he was deeply critical of the special counsel probe, President Trump did not offer any public condemnation of Russia's meddling in the election.
The two leaders met for a long-anticipated summit Monday, but initially publicly made no mention of thorny issues like election meddling, Syria or Crimea before sitting down for the first meeting, a one-on-one encounter.
The two leaders began the summit by walking quietly into a room in the Presidential Palace in Helsinki. Against the backdrop of six U.S. and Russian flags, Putin broke the silence with brief remarks.
But when Trump spoke, he didn't publicly address some of the issues vexing politicians back home, in Europe and the Middle East, such as the federal indictments last week of Russian military intelligence officers, Russia's defense of Syrian President Bashar al-Assad or the annexation of Crimea.
Instead, he started his remarks by congratulating his counterpart on hosting the World Cup.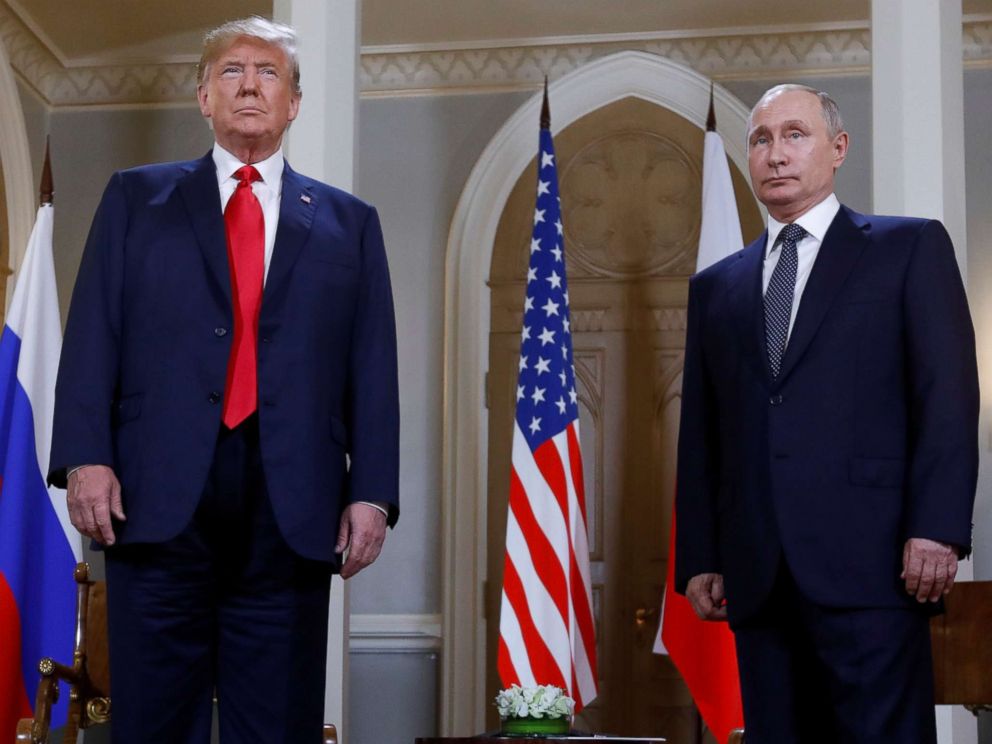 "I'd like to congratulate you on a really great World Cup, one of the best ever," Trump said. "And for also your team doing so well.
"It was beautifully done," he added, saying he watched the finals.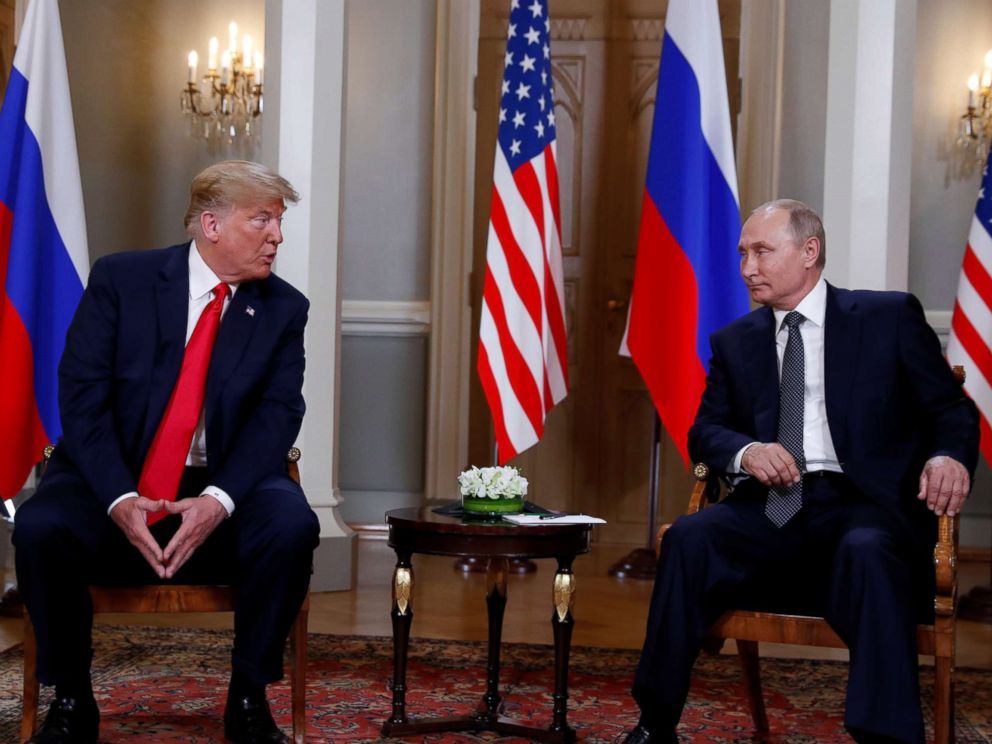 Trump said they'll be talking about trade, military and China. Among the major topics will be repairing the deteriorating relationship between the two countries, he added.
"We've been not getting along for the past years," Trump said. "We'll have an extraordinary relationship.
"And I really think the world wants to see us get along. We are the two great nuclear powers. It's not a good thing, it's a bad thing. So we'll be talking about that, among other things."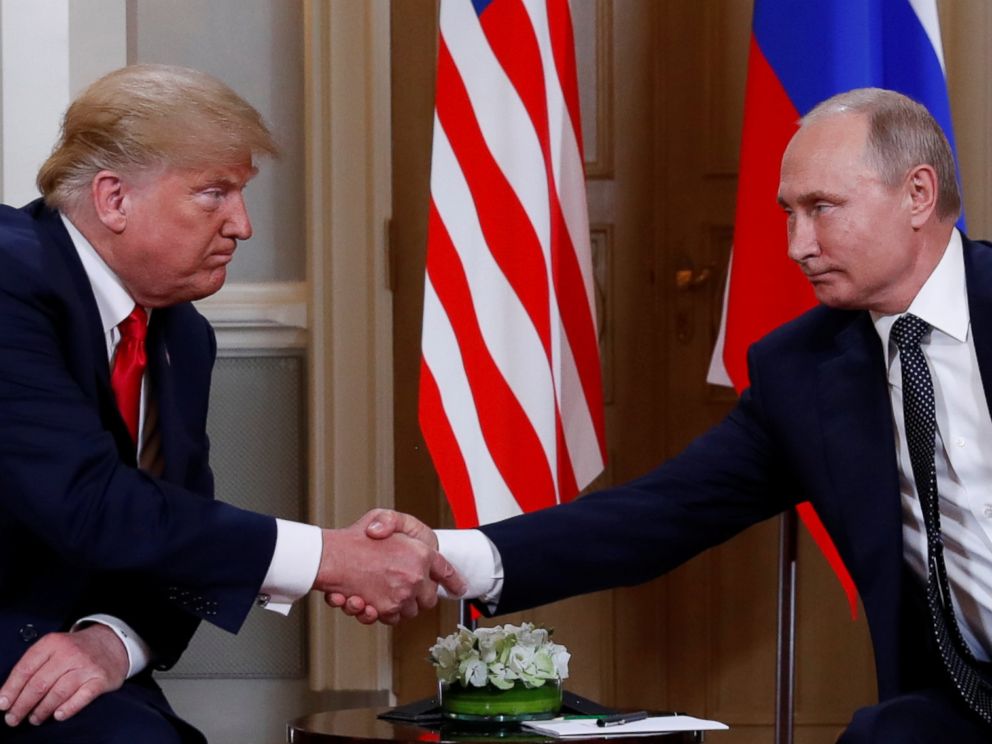 Putin, who is known to keep world leaders waiting, arrived almost 30 minutes late in Helsinki for the meeting. In his opening remarks, he said the time had come for bilateral relations in "various hotspots in the world."
"There are enough of them that we have paid attention to them," he said.
"I am glad to meet with you on the hospitable soil of Finland," Putin told Trump.
He didn't address some of the more controversial issues, either.
After both leaders spoke, they briefly shook hands.
The pool of reporters shouted several questions about election meddling to Trump after his remarks but he didn't respond.
The leaders then ducked into a private room to start the bilateral meeting with advisers and interpreters.
After two hours of meeting privately, Trump and Putin emerged and then headed to the expanded bilateral meeting and working lunch.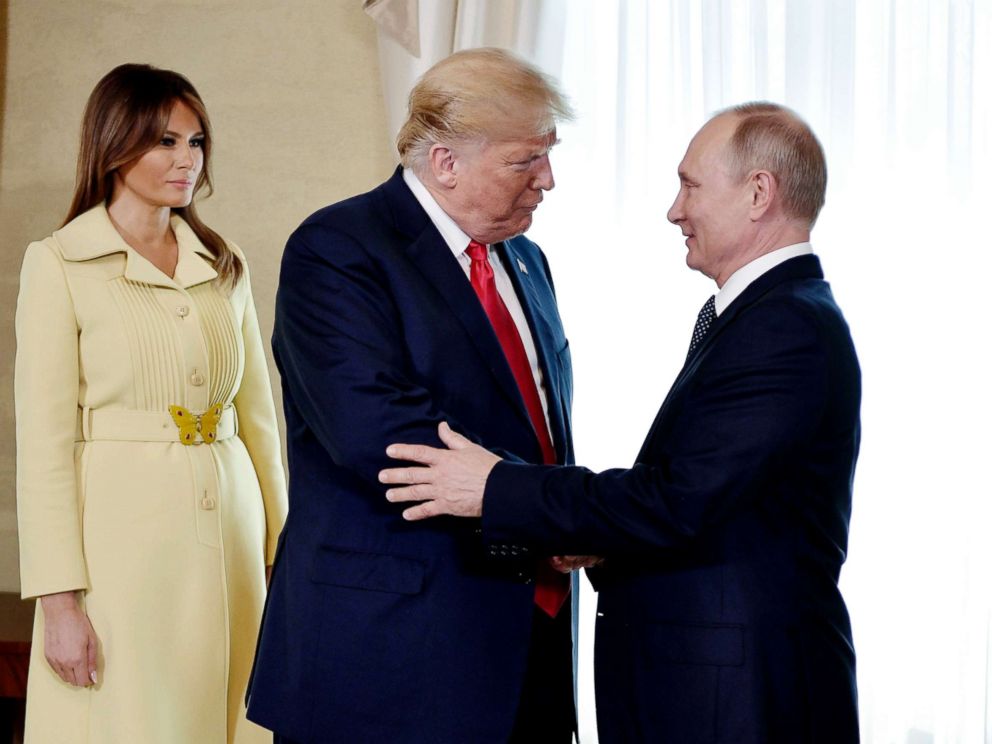 Trump told reporters the private part of the summit had gone well.
"I think it's a good start, a very good start for everybody," he said.
Trump and Putin will hold a news conference after the lunch.
The meeting happened after a week of worldwide anxious anticipation spanning from the United States to Europe to Russia.
Before they met, Trump tweeted, "Our relationship with Russia has NEVER been worse thanks to many years of U.S. foolishness and stupidity and now, the Rigged Witch Hunt!"
Trump has said he hopes to improve relations with Russia but has placed blame for the deteriorated relationship on his predecessor, President Barack Obama, rather than Russian aggression and meddling.

Read More (...)